Since hiring managers receive a lot of job applications every day, do you know how to catch their attention? Your resume is your first impression to employers; thus, you have to be good at writing a convincing one. It takes knowing the 2019 resume trends to keep up-to-date with what's attractive and what's not.
Latest Resume Trends
What's In and Hot for 2019 Resume Format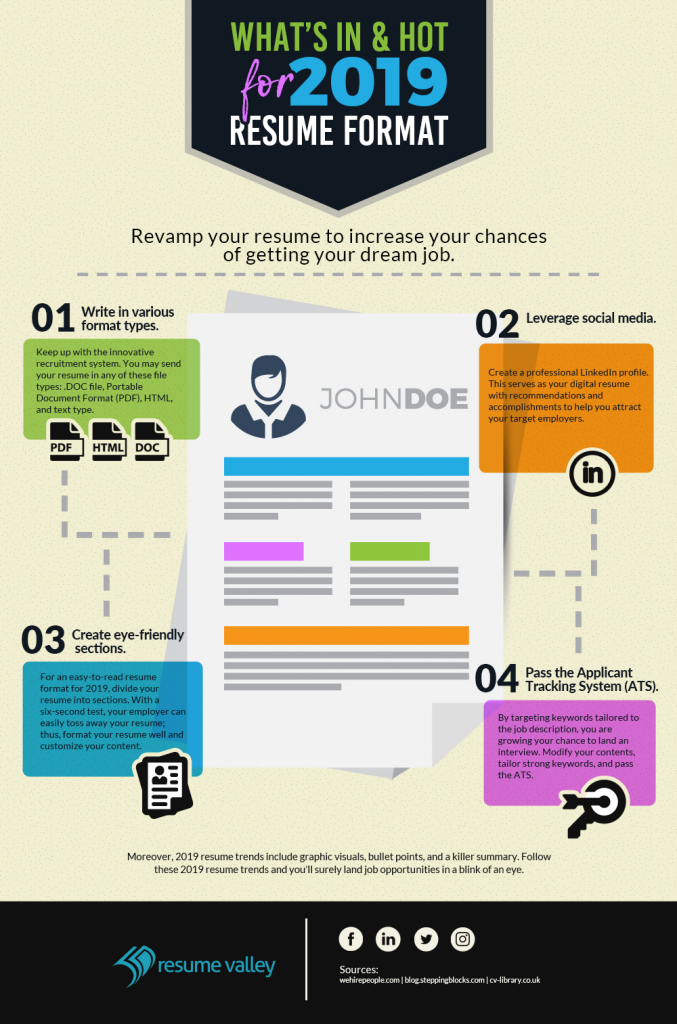 Download the Infographic on What's In and Hot for 2019 Resume Format
New Resume Writing Trends: Attracting Job Interview Invitations
Trend 1: Leverage social media.

Many employers look for candidates online. If you don't have an online presence, then you're on the verge of losing the battle; so, create a professional LinkedIn account. Having a LinkedIn account extends your reach to potential employers. This is one of the new resume trends that not everyone knows how to take advantage of.
Trend 2: Write in various format types.

Sure, you don't want the reader to find it hard to open your file. If this hassle happens, they might skip your resume and proceed to checking the next candidate's profile. It's like having your resume thrown away — buried in the computer trash bin? Thus, have your resume in the following formats: PDF, HTML, or Doc. These are the common file formats. Readers of your resume will find it easy to open it.
Trend 3: Use enough white space.

Don't embellish your resume with a crazy design. It's not necessary. The resume styles in the 2019 resume trends don't involve elaborate designs. It will not help you land an interview. Focus on the content and provide enough white space to make it look clean. Make it easy on the eyes of the reader. This will allow them to read on and see the important details.

Trend 4: Pass the applicant tracking system (ATS).

Companies use technology to filter job applications. In order to pass the ATS, you need to tailor your resume content based on your target job. Use strong keywords in your qualifications that match their job requirements. The current resume trends still include this practice; thus, always study your industry and profession to come up with relevant keywords.
By knowing some tips found over the web, are you now equipped to write a great one that can grab your potential boss' attention? According to CV Library, 75% of resumes got rejected by ATS even before they get read by a human. Don't let this predicament in 2019 resume trends get in your way to having your dream job. Let our professional resume writers help you! They know exactly what to do.