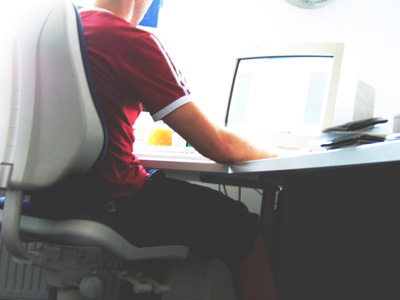 Who says you can't earn a decent living from the comfort of your own home? You most certainly can, because the Internet made this possible. In this day and age, not much is impossible, and that includes working in a remote location. This is very beneficial for stay-at-home mothers, disabled people, or even students who want to earn a little on the side.
Here's a list of the highest paying home-based jobs in the U.S.:
9. Data Entry
Median Hourly Rate:$13.88*
Qualifications:
~ High School Diploma Holder or GED
~ Computer Skills
~ Good Vision
~ Time
Tasks: Take data from different sources such as, canceled checks, bills, reports, and many others, and input it in an electronic data system for storage and analysis.
8. Call-Center Representative
Median Hourly Rate: $14.70*
Qualifications:
~ High School Diploma
~ Exceptional Communication and Listening Skills
~ Basic Computer Skills
~ Ability to Multi-Task
Tasks: Answer calls from customers to handle inquiries, answer questions, take orders, resolve complaints, and perform troubleshooting.
7. Medical Transcriptionist
Median Hourly Rate: $16.36*
Qualifications:
~ Certificate or Associate's Degree in Medical Transcription
~ Above Average Typing, Writing, Grammar, Memory, and Communication Skills
~ Knowledge of Medical Terms
~ Basic to Above-average Knowledge of Computers
Tasks: Type up written reports of the audio recordings of doctors after their interaction with patients. These written reports are included in a patient's medical record.
6. Travel Agent
Median Hourly Rate: $16.64*
Qualifications:
~ Bachelor's Degree (Preferably in Travel, Tourism, Languages, Business Management)
~ Good Interpersonal Skills
~ Numerical Ability
Tasks: Help people plan, choose, and arrange their trips. Offer advice and opinions on where to go and local tourist attractions, events, and customs.
5. Translator
Median Hourly Rate: $21.84*
Qualifications:
~ Certification from Professional Translator Organizations (i.e. American Translator's Association and National Association of Judiciary Interpreters and Translators)
~ Native Fluency in a Target Language and Source Language
~ Bachelor's Degree
Tasks: Convert written material from a source language into a target language, ensuring that the translated version fully conveys the meaning of the original.
4. Technical Support Specialist
Median Hourly Rate: $22.89*
Qualifications:
~ Bachelor's Degree in Computer Science
~ Professional Certification
~ Analytical and Problem Solving Skills
Tasks: Provide technical support, advice, and assistance to consumers and businesses with technical, hardware, and software system problems.
3. Virtual Assistant
Median Hourly Rate: $25**
Qualifications:
~ No Basic Educational Requirements
~ Above-average Computer Skills
~ Marketing, Organizational, Written, and Verbal Communication Skills
Tasks: Provide administrative, creative, or technical services from a remote location using the virtual assistant's own computer equipment, software, phone and Internet connection
2. Writer/Editor
Median Hourly Rate: $26.89*
Qualifications:
~ Bachelor's Degree
~ Originality, Determination, and Discipline
~ Excellent Command of the English Language
Tasks: Produce written copy in the form of books, editorial articles, screenplays and promotional marketing material.
1. Web Developer/Designer
Median Hourly Rate: $30.05
Qualifications:
~ Bachelor's Degree in Web Design
~ Strong Graphic Design Skills
~ Excellent Understanding of HTML and CSS Techniques
Tasks: Create beautiful websites for private and public sector organizations.
Interested in trying them out? Go! Keep in mind though, that even if you're not in an office, you must be professional and responsible at all times. Feel free to check our resume samples to help guide you in crafting your own powerful and unique job hunt tool.
*According to the Bureau of Labor Statistics latest report
**Estimate
Source: Study.com, The Simple Dollar, Bankrate, ABC News, Chron