Resume writing is a daunting task for most job seekers. And if it's a career change resume, it's even more challenging. If you're planning to make a career transition, one of the biggest challenges you'll face is showing how your career history applies to your new target job. Hence, if you don't want your application to end up in the "rejected" pile, revamping your resume is a must.
Why Use a Compelling Resume for Career Change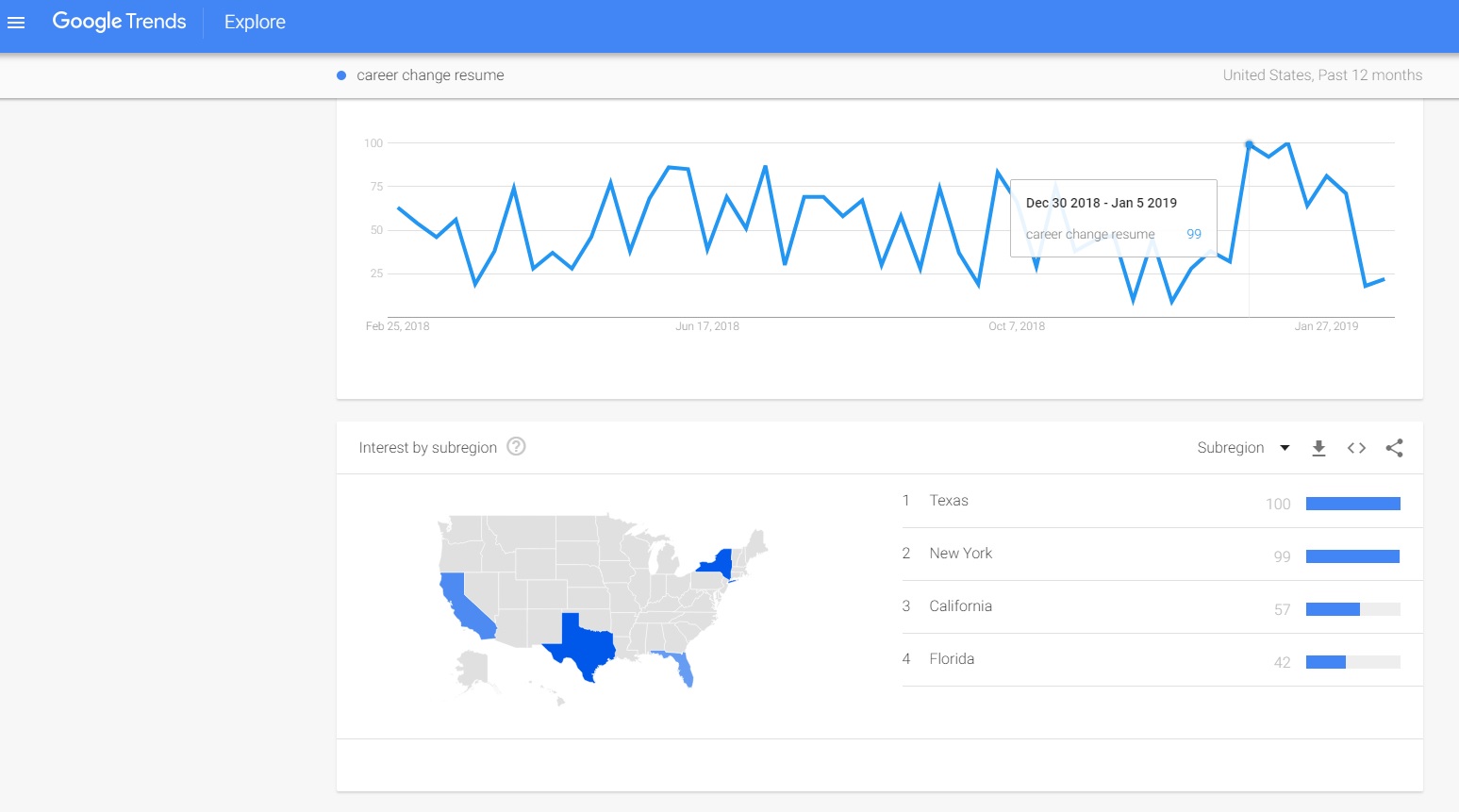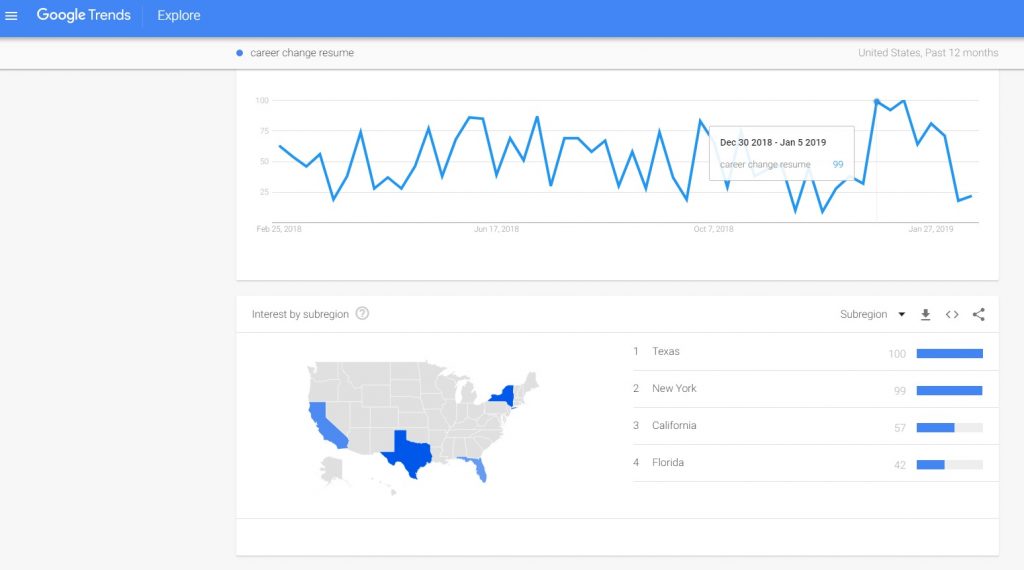 When you're trying to change careers, you need to realize you're going up against more qualified job seekers for the role or industry you're targeting. In addition, Google Trends reported a spike in searches for 'career change resume' between December 2018 and January 2019. And majority of this result hails from major US states, namely New York, Texas, Florida, and California. This means there are many job seekers looking for either expert resumes for career changers or advise on how to tailor resume for career change. Thus, you need to have a targeted and compelling career shift resume that highlights your most transferable skills. Doing so means you're likely to outshine your rivals.
A detailed profile and skills section followed by a chronological work experience section is the key to making this strategy run. This way, your transferable skills wow your readers first, and put less focus on the 'who, what, when, where, and how' of your work history.
Career Change Resume Tips for an Effective Transition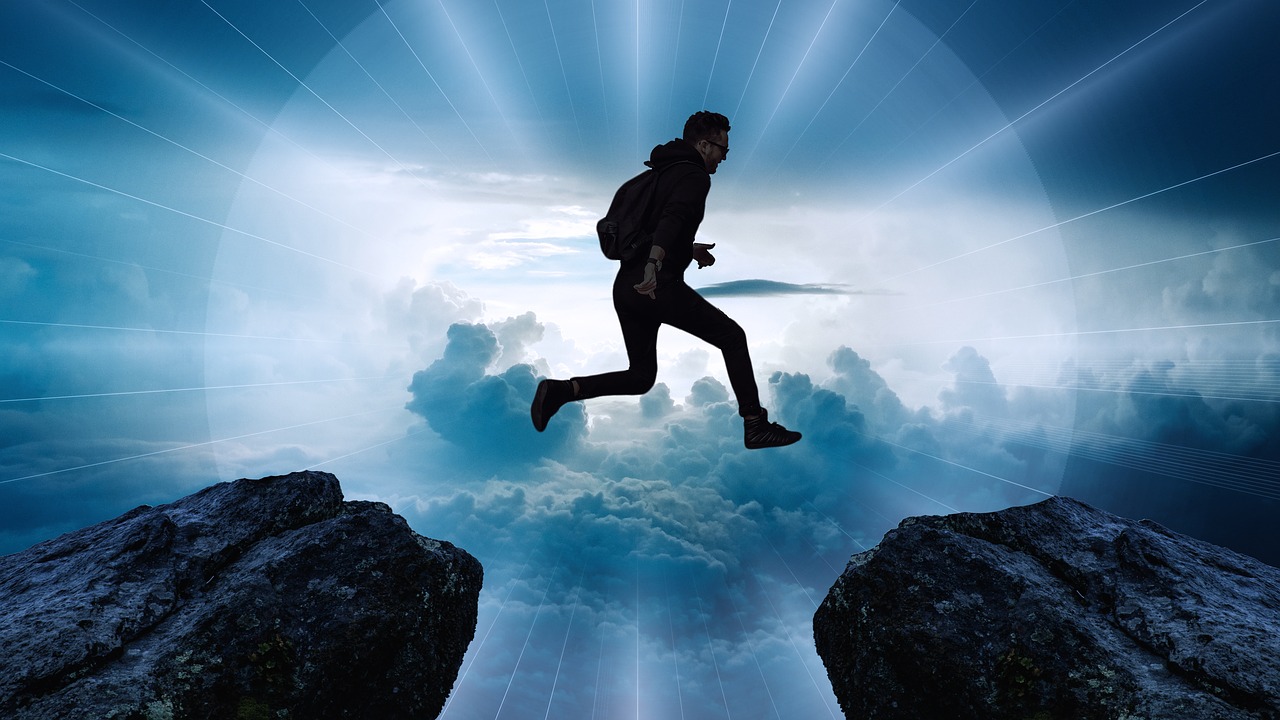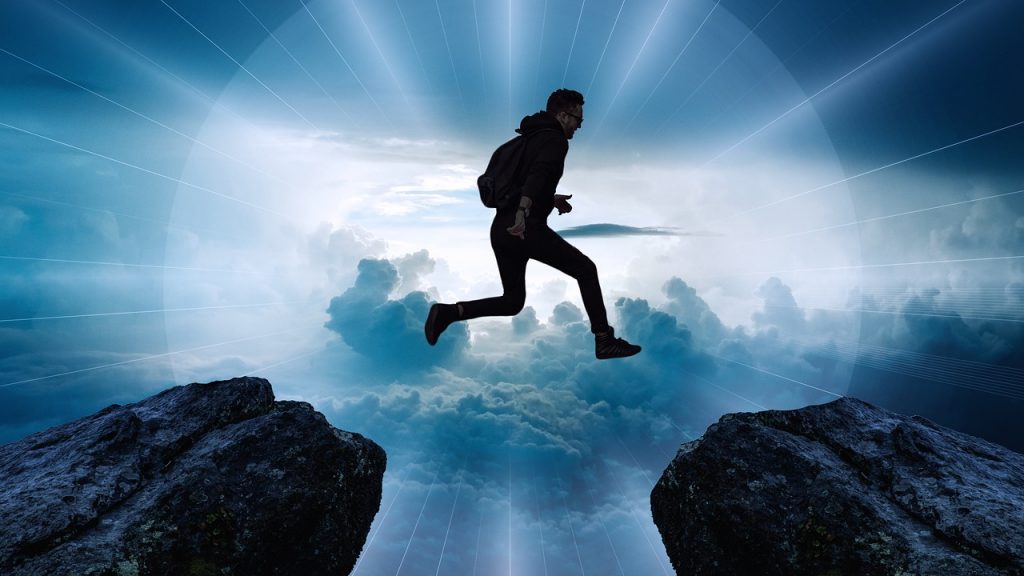 1. Focus on what's relevant.
Since you're taking a big leap, consider the details on your current resume. Identify and highlight those related to your new work. Meanwhile, downplay irrelevant items that might distract your reader's attention. Further, stress the skills and experience important to your target job.
2. Align your career objective along with the new job.
A good career change resume makes your intent loud and clear in the profile section. Here, be direct that you're shifting to a different line of work. Your employer won't assume you're sticking to your current job. Clearly state your reasons for changing careers and show your willingness to learn new stuff and gain fresh experiences.
3. Match the job description with your career summary.
Check your prospective job description. Then, create a career summary that will match it. This way you can show the employer you fit the position. Prove to them you can handle the job despite pursuing a different job before.
4. Highlight your achievements.
Are your old accomplishments relevant to the new job? If yes, identify them. If not, assess well if you must still include them in your resume. Add them only if they can help you give your job search its needed boost.
5. Use a combination resume format.
Since career changers have transferable skills, a combination resume is the best format they can use. This form starts with a summary of qualifications and includes a chronological list of relevant experiences. If you're changing careers, a combination resume format is a good way to display your most relevant qualities as an employee.
Having the basic knowledge on how to write a career change resume will help increase your chances of shifting to another job or industry. Just stick to all relevant details and you will surely be on the right path to getting a new job.
Resume Valley is a leading provider of resume writing services, including career change resume writing services. Do you need help in preparing your resume or CV for career change? Let our expert professional resume writers help you. Contact us today!