With the non-stop advancements in technology, many young professionals take this opportunity to embark on a career in one of the most in-demand fields today, the creative industry. It's 2021, and still the creative industry never ceases to amaze us with new opportunities and possibilities. Are you planning to set your feet, walk toward this path, and be one of the successful professionals in this track? Kickstart your job search in the field with the help of our 2021 creative resume writing guide!
Defining Creative Resume
If you're pursuing a career in the creative field, you must catch first the hiring managers' attention through your resume. I am not talking about the plain and traditional resumes, but a creative one. There's nothing wrong with the usual black-and-white resume design; but since you are establishing a career in the creative industry, expert resume writers highly recommended using a creative resume. Through this, you can present your skills and feats in a manner that bucks convention. You can also showcase your artistic prowess by including graphics and videos on your creative resume. Usually, these resumes are sent online, along with your online portfolio, video sample, or personal website.
When to Use Creative Resume Format
A creative resume format represents the unique design skills and creativity of a job seeker. While creative resumes are eye-catching and attention-grabbing, this resume format is not applicable for all industries. For instance, this style might not work well within the engineering, accounting, or healthcare sectors which require skills and qualifications that don't need creative visuals. But if you're planning to build a career in the creative industry, then this format is the perfect chance to highlight your artistic flair.
On the other hand, multimedia artists use creative resume formats to flaunt their skills and experiences through various visual elements. This allows them to display graphic designs that can't be translated into words. That said; this resume format has easily become the top choice of many graphic designers, visual artists, web designers, photographers, video editors, filmmakers, and other professionals in the field.
Creative Resume Writing: The Dos and Don'ts
Let's say you have the qualifications, skills, and experience that would qualify you for the job. Can you showcase them on your resume? No worries! Read this creative resume writing guide to help you craft one that will surely impress hiring managers.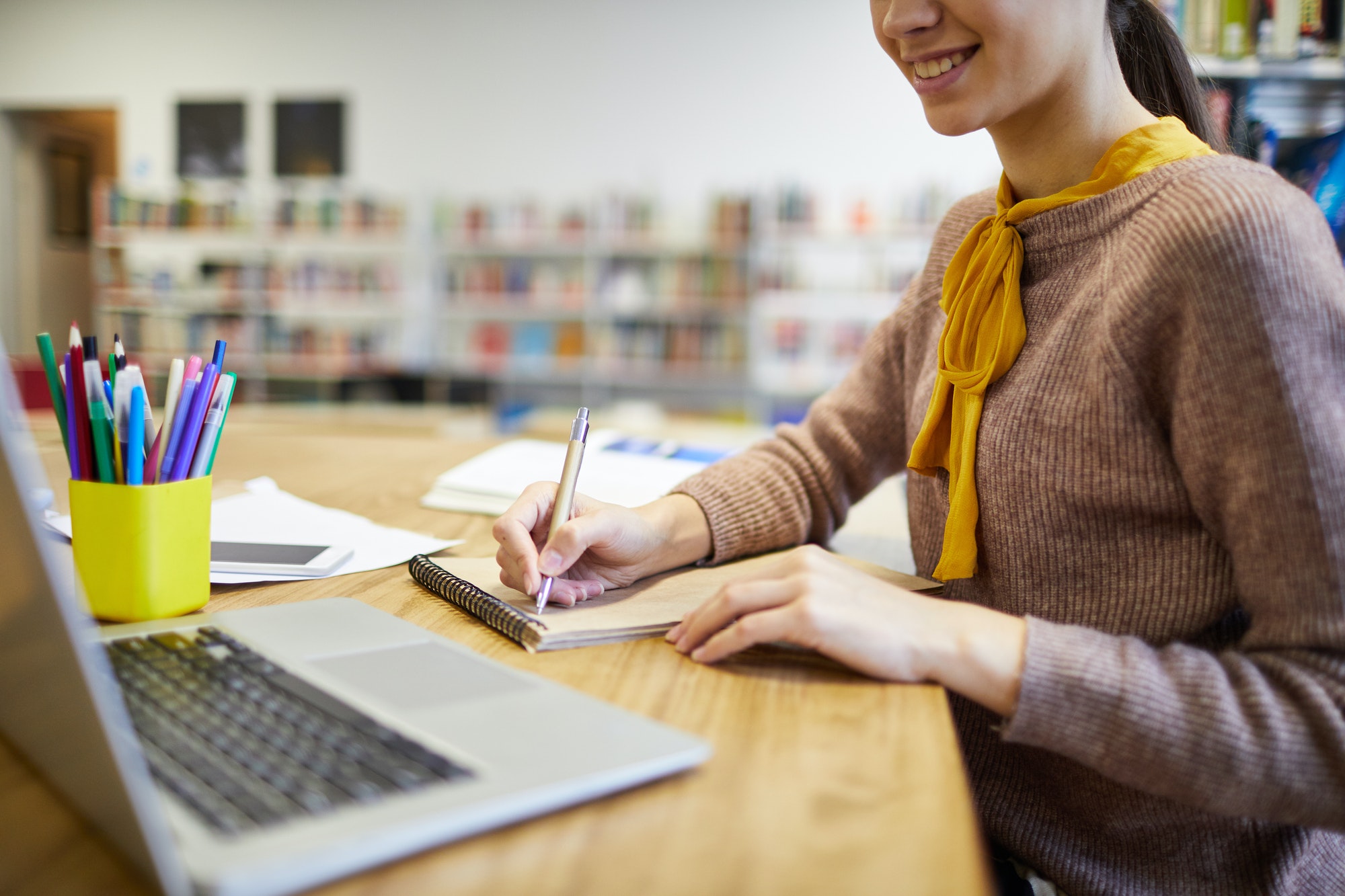 Do these tips and grab the hiring managers' attention!
Do include visual elements
One reason why this resume format is popular among creative thinkers is due to their ability to customize this format with their own graphics and layout styles. As a creative professional, level up your game and outline your layout! This is your time to unleash your creativity in creating your own icons and palettes.
Do work on your brand
Want to introduce your personal brand through your resume? Use colors that describe your personality. Create your own brand logo and design your own icons. Combine all these elements altogether to draft a one-of-a-kind creative resume.
Do keep it creative yet cohesive
You have the freedom to choose your own layout. However, always make sure that each detail complements each other. Highlight your skills and unique ideas as they will serve as one of your edges among other applicants.
Wondering what to avoid when writing a creative resume? Read on.
Don't plagiarize
Just like other forms of art, your resume depicts your own expression. Don't fall for the trap of copying others' work because it says so much about your work ethic. It's fine to get inspiration from their works; but never, ever copy the entire thing and claim it as your own.
Don't be too wordy
Instead of writing flowery and lengthy sentences, use your clever mind to make your resume more visually appealing and less wordy. Putting a block of words into your job search tool will defeat the purpose of the icons and other visuals included.
Don't forget your goal
At the end of the day, your main target is to impress your hiring managers and get your dream job. Hence, you should arrange all your creative efforts in a manner that will convey your skills and strengths. You have the freedom to include your own style but don't get too carried away in such a way that you lose track of your goal.
Creative Resume Design Sample
Looking for recommended design pegs or a designed resume template? Fret no more! Resume Valley career experts are here for you. View our sample below and see how you can start your own job search tool.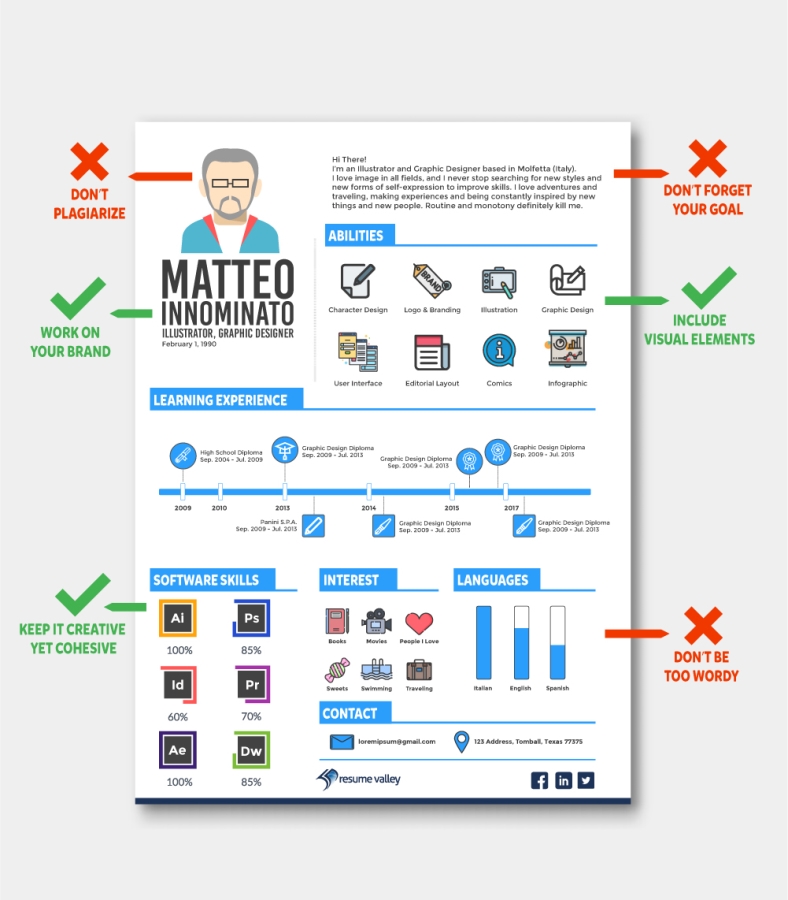 Download Creative Resume Sample with Dos and Don'ts here.
Pursuing a career in the creative field gives you endless possibilities, especially if this is your calling. Go and get the hiring managers' affirmative response for a job interview with your creative resume! If you are still not confident and in need of expert opinions on your creative resume, don't worry; Resume Valley is here for you. Check our resume services today!