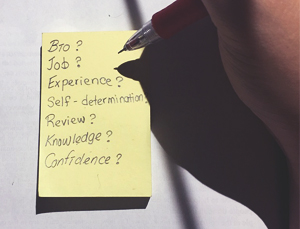 Are you an entry-level applicant or a career shifter who finds writing a draining and frustrating task? Maybe you're unaware your job search's success depends on the first part of your application tool, the qualifications summary and skills sections. Now, the question is, what should you do to highlight these two resume sections to win your target post? Here are a few tips.
Ways to Highlight Two Vital Resume Sections
1. Choose the right format.
Entry-level job seekers don't have enough experience to show while career changers downplay them for obvious reasons. Hence, if you're either of the two, why not prepare a functional resume. Although you can't choose a resume format, it will always depend on your situation. With the functional format, your professional profile and core competencies go first before your work history and training.
2. Write well.
Under your career tag, save a section for your "brief" profile. In detail, this comprises four or five phrases with personal characteristics you find significant in performing your desired job. How do you write it best? Start with a descriptor or a job title such as "healthcare expert who…" Make sure the succeeding phrases start with a strong adjective, but use the ones that describe you as a professional. Use numbers and symbols to make it stand out from the rest of the texts. Reserve the next section to list your skills. These could include skills you gained from on-the-job training, campus leadership, volunteer experience, and/or work experience. The "above-the-fold" part of your resume is the ideal place to put these details, so you'll grab the hiring manager's attention at once.
3. Use visual enhancers.
Among the resume sections, only the qualifications profile and skills can be stylish. Yes, you can write details here in any format. You can use tables, bullet points, and vertical bars in listing your qualifications or each of your skills. In addition, these tools help make your text striking to the reader's eyes. However, you must still keep a professional-looking resume although you're using visual enhancement tools. Otherwise, you can write your profile summary in paragraph form. Likewise, be sure to use the same design and style in writing the headings.
4. Add keywords.
Using industry-related words and phrases can prove your worth as a qualified candidate. Besides, they serve as application highlights if they match what the job requires.
5. Keep it short.
You don't have to use too much space to make hiring managers see your qualifications and fields of expertise. Well, that's why it's a "profile summary." You should summarize your qualifications. For the skills, those with two or three words, such as software application programs you know or use, are easy to understand.
6. Create proper labels.
How you named resume sections in your application is enough to catch the recruiter's attention. Choose the right words in naming your headings. For qualifications summary, "Career Summary," "Highlights of Qualifications," or "Professional Profile" are great alternatives. Likewise, you can name your skills section "Core Competencies" or "Areas of Expertise."
These resume sections presents a personal branding only you can give while crafting your piece. If you won't nail it at once, seek the help of experts. Resume Valley offers a thorough, well-written copy with our CV writing service.
money.usnews.com
www.universalclass.com
resources.onewire.com
jobmob.co.il