Do you know the fastest way to a hiring manager's heart? Through a well-written qualifications summary and relevant skills. These resume sections are the most visible parts in a resume. So if you are to review one, you will surely read these two sections first.
In this article, the following questions will be answered:
What is a Qualifications Summary?
More known as resume summary, this section is your easiest way to get noticed. It contains your most impressive achievements, professional expertise, and experience. Basically, it is your elevator pitch, which explains why you are the best one for the role. Moreover, career shifters state their transferable skills and career direction here.
For a better grasp, here's an example of qualifications summary:

4 Ways to Optimize Your Qualifications Summary
A. Make it short and catchy
The very reason why you should make it short and catchy is that it is a summary.
Many hirers just skim resumes in an average of six seconds. One way to achieve this is by filtering each point. Ask yourself: Will this impress the hiring manager? Anyway, you can move those less important points to other resume sections.
B. Use visual enhancers
The example above is an extended qualifications summary. Apart from this structure, you can opt to be a bit stylish. You can use tables, bullet points, and vertical bars in listing your qualifications or each of your skills. In addition, these tools help make your text striking to the reader's eyes.
Instead of creating an extended qualifications summary, you can include an additional list. It looks more presentable. See this example: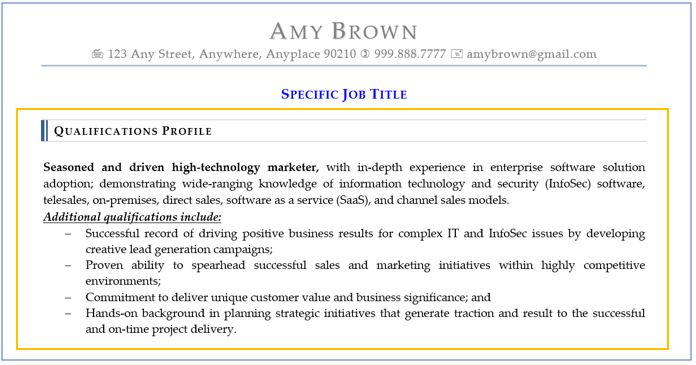 C. Tailor it to the job position
Aside from writing what you can offer to your target company, you must also tailor this part to the job position. Doing so will heighten your hiring chances. Why? You used the resume keywords present in the job description. In addition, writing powerful resume keywords is helpful for passing the ATS screening.
D. Use proper labels for the section
How you name resume sections is enough to catch the recruiter's attention. Choose the right words in naming your resume section headings. Use the qualifications summary synonyms:
Qualifications Profile
Summary of Qualifications
Career Summary
Highlights of Qualifications
Professional Profile
Executive Profile
Key Qualifications
Need help in writing your qualifications summary? Contact us and talk to our professional resume writers!
What is the Relevant Skills Section?
The skills part in your resume, also called as areas of expertise, is one of the most important resume sections. This plays a crucial role for you to get hired. It lists your traits, characters, and abilities suitable for the job. It details and measures your capabilities to do what the job requires. Thus, you need to spend more time writing this section.
To give you an idea on how to create one, here's an example of areas of expertise: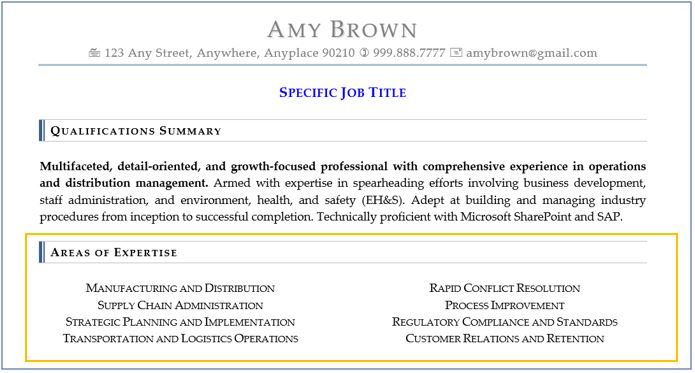 5 Ways to Optimize Your Areas of Expertise
A. Know where to place it
From resume experts' view, the location of the skills section depends on the job, company, and industry you're eyeing. For a position that focuses on technical knowledge, listing them closer to the top of your resume, right below the qualifications or executive profile, is an excellent move.
Check this resume for a client who applies as customer service manager:
Since his target job needs a set of skills, we have placed his technical adeptness on the upper part instead of putting them below as other abilities.
Yet, sometimes, a handful of firms give utmost importance to experience. If so, write them at the top part and place the skills section at the bottom such as this one: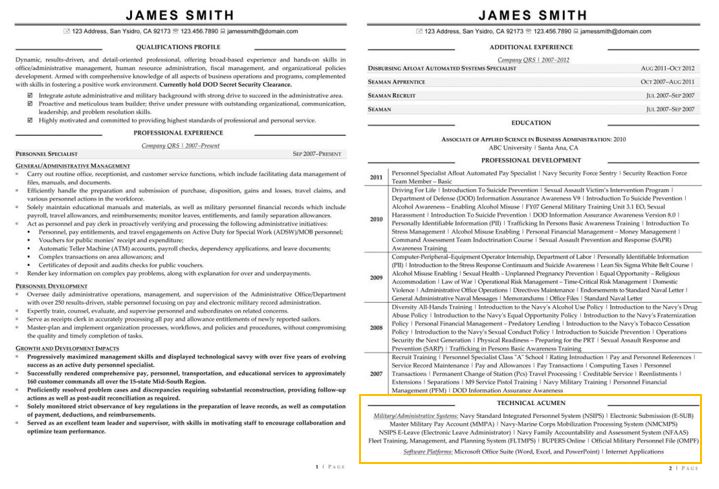 B. Tailor your skills to the job post
Hiring managers choose hopefuls with skills that match their need. Thus, the closer your skills to the job description, the better are your chances of getting an interview. Likewise, if you're an expert at something insignificant to your target job, as long as the task is relevant, include it.
For example, if you're applying for a management position at a music shop, write that you know how to play a musical instrument, too. With this, you can show you're knowledgeable in the industry.
C. Use proper labels for the section
Apart from Areas of Expertise, you may also use other names for the skills section. The use of a particular term depends on the type of resume. Choose any of the skills section synonyms.
Core Competencies
Functional Strengths
Functional Skills with Experience
Summary of Relevant Experience
Technical Acumen
Need help in writing your skills section? Contact us and talk to our professional resume writers!
D. Add a figure if possible
Replace common adjectives with solid numbers.
Good: Excellent in foreign languages
Better: Fluent in English and French and proficient in German
Good: Expert typist
Better: 75WPM typist
Note: Don't be manic with the specifics. A handful of details are enough.
E. Organize your bullets.
A list of four to five bullet points is just right. If you listed more, keep them sensible. For example, keep your speaking and language skills with your speaking and language skills, and your computer skills with your computer skills.
Don't break them up like this:
Skillful in Adobe Illustrator and Photoshop
Trilingual, fluent in English, German, and Italian
Proficient in MS Word, PowerPoint, and Excel
Confident and charismatic speaker
Organize them in this manner:
Skillful in Adobe Illustrator and Photoshop
Proficient with MS Word, PowerPoint, and Excel
Confident and charismatic speaker
Trilingual, fluent in English, German, and Italian
Resume sections present a personal branding only you can give while crafting your piece. If you won't nail it at once, seek help from experts. Resume Valley offers a thorough, well-written copy with our professional resume services.