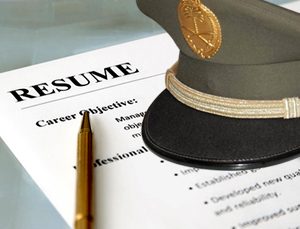 As the term suggests, a military to civilian resume is a job application tool used by army officers and staff seeking a new career path outside the service. With the current job market's status, shifting from a military service to a civilian job can be frightening. Therefore, if you're planning to shift careers, use these resume writing tips for a more fruitful job transition.
Military to Civilian Resume Writing Tips
1. Qualifications to Highlight
As someone from the military service, sure you have various experiences and achievements. However, you must cease from placing them altogether in your piece. A resume must always appear full but not overloaded. Resumes overflowing with qualifications and skills can be too overwhelming for busy recruiters to read. This doesn't mean, though, you must remove them from your copy. Make your summary appealing, rather than daunting, by focusing more on your transferrable skills, feats, and experiences relevant to your target job.
2. Language to Use
Convert military jargons into words a layman will understand. Show your resume to your civilian friends and ask them to point out what they don't understand in it. Likewise, use job post descriptions as your reference to help you explain them.
3. Style and Format to Apply
The style, format, and layout of your resume play vital roles, too. Use a constant format and write your work experience in reverse chronological order. Bullets and font style, color, and size must be uniform from beginning to end.
4. Career Path to Pursue
Since servicemen have diverse backgrounds, they often make the mistake of creating resumes that are too general to be effective. You can't market yourself to recruiters if you don't have a defined goal right from the start. Hence, before you write your summary, do some soul searching, first, and search for jobs to pinpoint a specific career path you want to follow. If you find this step difficult, tap into your local transition office or ask the help of a career coach. If you can't choose between two or more potential goals, create different resumes for each one.
5. Purpose to Fulfill
Your resume's purpose is to show recruiters what you can do or contribute to the firm's growth. One easy way to find a company or figure out an employer's needs is to research about them and your target job. Check the firm's website and read as many job postings as possible. Find out the skills and experiences they want and which part of your background is most relevant to them. Your piece must show who you are. Besides, act how you describe yourself during the interview.
In a tight market with few job vacancies, finding employment can be hard, more so for career changers. Then again, applying these civilian resume writing tips will help you express your passion for and interest in any job posting. Besides, you can ask an expert's help if you cannot write an impressive resume. An expert can help you improve and create an outstanding copy that will increase your chances of gaining a successful move from a military to a civilian job.
Sources: www.military.com | www.realwarriors.net
Related Articles:
Civilian and Federal Resumes: How Do They Differ?
Effective Resume Writing Tips for a Career Move