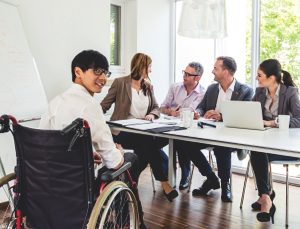 Job seekers with disability face the toughest burden in the labor market. If you're a candidate with disability, don't lose hope. Instead, prove your worth for the post. Sure enough, modern-day employers and hiring managers no longer discriminate when seeking to fill vacancies. But even with this non-discrimination policy, you should step up your efforts to prove yourself as the fittest for the job. Below are a few effective job search tips to help hopefuls with disabilities like you succeed with your quest:
What Job Seekers With Disability Should Do
1. Stay optimistic and confident.
If you're determined to pursue your job search, optimism and confidence are your keys to fulfill your goal. These two make a good attitude that together attracts positivity. Now, how can you stay positive despite your current condition? Think of all your skills and list them down onto your resume. This is but a confidence-booster that can keep your spirits up. Also, your actions and gestures best define the positive vibe in you. Hence, you should always keep calm, relaxed, and energetic with your head held high whenever you're coming to an interview.
2. Emphasize your skills and experience.
Disability and health are two different things. The inspiring truth is, most disabled individuals are healthy and fit to perform duties at work. Citing your credentials is the most effective way to compel recruiters to consider you for the post. Your talent and knowledge of the tasks are, indeed, what make you valuable to any company. Hence, you always have the option to present a resume in either chronological or functional format. And no, these formats don't conceal your disability but only respond well to job requirements.
3. Show your other qualifications.
If you aren't convinced your skills and experience are sufficient to help you make the cut, allot a section for "other sets" of qualifications. These may contain your internships, volunteer works, and other activities related to the target job.
4. Give hints on your disability.
While resumes of job seekers with disabilities don't reveal exactly the disability, you can still give information concerning it. You can mention in the "duties" section of your Work Experience your use of a special tool (e.g., keyboard, software) that makes you productive at work. Such act could also mean transparency.
5. Prepare a cover letter.
Since resumes don't contain details about disability, cover letters do (depending on one's personal decision). So, if you want to disclose or share any story that it may not badly affect your hiring chances, write a cover letter. But discuss only the necessary things. Through it, you can also seek for whatever accommodation you might need in case you come personally. Just do it in positive terms.
6. Be honest.
There's no reason to hide your disability during job search, especially today that enacted laws protecting the welfare and interest of persons with special needs exist. Job seekers with disabilities just need to be honest. When filling out application forms requiring details about your health, don't be afraid to write "will discuss at the interview."
Follow these tips to boost your chances for the job. Prove to the world that job seekers with disability have equal right for employment and that you're ready to take on greater roles despite your imperfection. If you can't write the perfect application tool to reflect your special circumstance, seek help from expert writers. Resume Valley offers civilian resume that will help you get to your dream career!
Sources:
https://www.monster.com
http://www.disabilityjobexchange.com
http://money.usnews.com
http://digitalcommons.ilr.cornell.edu
Image courtesy of franky242 at FreeDigitalPhotos.net