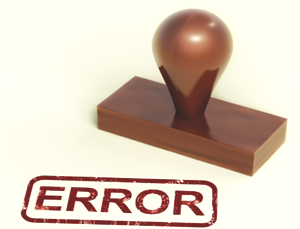 According to a study from The Ladders, provider of online job search services in the United States, a recruiter spends an average of 6 seconds reviewing a resume before deciding if the candidate is worth calling in for an interview or not.
[gap size="80px"]
If you only have 6 seconds to impress someone, make every word count by avoiding these pitfalls in your resume:
1. Vague Objective – "To gain more skills and experience." What skills? Experience in what? Be clear on what you want to do.
2. Inappropriate Email Address – Unprofessional email addresses like [email protected] make you look immature and unserious.
3. Multiple Phone Numbers – You don't have to include all 5 of your phone numbers; just put in your business phone and landline numbers.
4. Personal Details – Avoid putting in personal information such as religion, family size, social security number, marital status, can potentially lead to discrimination.
5. Irrelevant Social Media Accounts – Including personal social media accounts like those in Tinder, Snapchat, and Vine might affect your personal brand.
6. Inappropriate Fonts – Don't experiment with "cute and cool" fonts that will make your resume hard to read and annoying.
7. Salary History – This is something you don't have to disclose to anyone. It may also send the wrong message to the recruiter.
8. Resume Written in First Person Perspective – Using "I" or "me" (i.e. "I graduated Bachelor of Science in Computer Engineering…) makes your resume look unprofessional. This format also makes you appear self-centered.
Here are the details you have to include:
Contact Information – Your contact number and email address should be written below your name.
Career Summary – Describe your accomplishments and achievements in a succinct manner.
Professional Background and Experience – List down job-related skills, experiences, and awards.
Job Keywords – For online resumes, include keywords related to your field and target job position so recruiters can find you through web searches.
Objective – Your objective should align with the needs of the company you're applying for.
The hiring process is like a sifter separating likeable candidates from the others. So if you want to be called in for a job interview, tidy up your resume by removing unnecessary information. You can also check out or free resume templates to get an idea of what a job-winning resume looks like.
But if you want your resume to be personalized, polished, and flawless, contact us and our professionals will be happy to write one exclusively for you!
Sources:
Image courtesy of Stuart Miles at FreeDigitalPhotos.net
Lifehack, The Ladders