The global labor force knows that most businesses today use applicant tracking system or ATS to screen job seekers. This means that the time when it's enough to print a resume, send it to companies, and expect a call from a recruiter is nearing its end. In fact, Forbes recently stated that employers in the United Kingdom and the United States now prefer using ATS because it helps recruiters work more efficiently. So for you to land that dream job, you must adapt to this trend. Stop that dated application habit and start writing your own electronic resume now.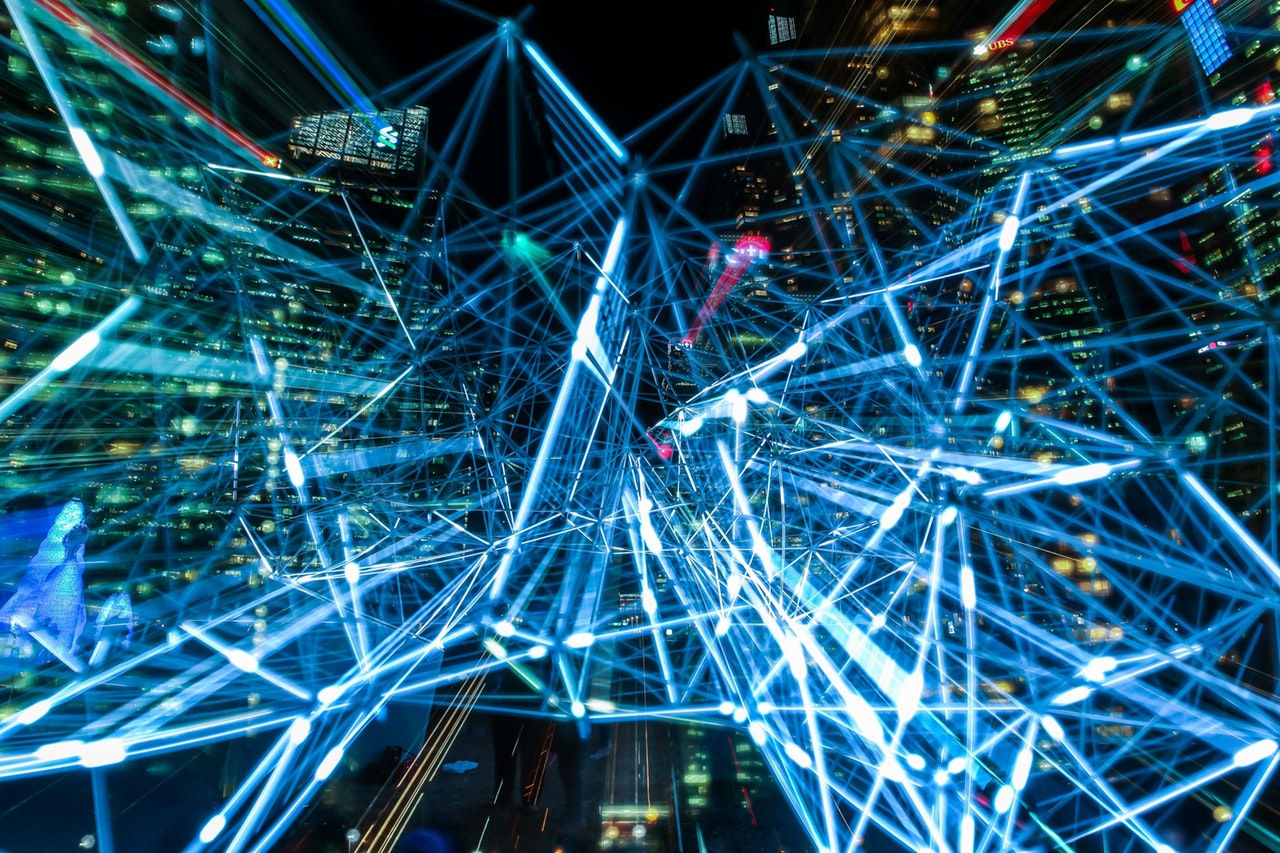 What Is an Electronic Resume
To put it simply, the definition of electronic resume includes other names for which they are known. These include e-resume, ASCII, plain text, or text-based resumes. This is the format intended for the computer program scanning, which makes it ideal for online submission of resumes.
E-Resume versus Printed Resume
The resume writing practice has changed and offices now prefer an e-resume more than formatted resume. But you might ask, "How do I set the two formats apart?" Along with the formatted resume, below is the electronic resume definition and some notes to help you get to know them.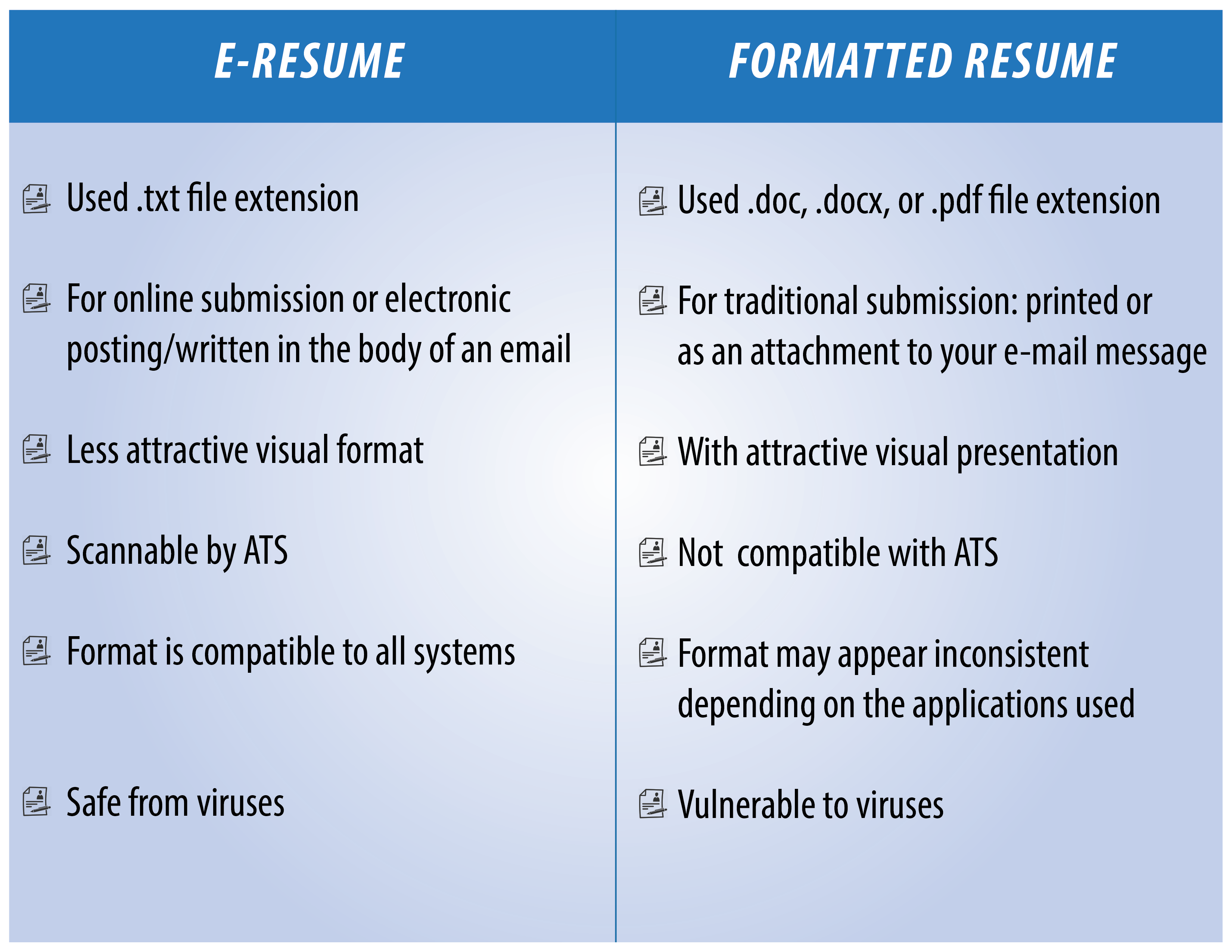 Benefits of Preparing an E-Resume
Electronic resumes show your technical skills.
Your technical skill is as important as your other experience. Take note that the changes in technology now force recruiters to hire someone with computer skills. Thus, writing an electronic resume is a silent act to impress them.
It offers many jobs.
An electronic copy of resume gives you an edge in today's tough market competition. It allows your resume to travel farther and faster through the internet.
An e-resume provides wide reach and better visibility.
Not like the formatted resume, an e-resume is web-ready. This means that it's compatible across all computer programs and platforms. Hence, with the use of ATS, your chances of receiving invitations grow.
It allows you to receive invites in your own convenience.
The best thing about posting your resume online is that it makes your job search easy. It saves you time and money.
An electronic resume format is ATS-friendly.
ATS or other platforms search for industry jargons. Resumes that match a specific set of keywords will receive hits. So if you prepared a resume with buzzwords, you'll get positive hits from ATS.
When to Use Electronic Resume
The electronic resume is in demand, but it doesn't mean that formatted resumes are outdated. If deciding on "what to use when" still confuses you, then review these tips to help you pick the best format to use.
Be familiar with the requirements.
First things first: Read the job posting and follow all instructions before sending your resume. This will help you choose which one you need. When there is no exact advice about the resume format, it's wise to prepare both.
See how the company accepts applications.
Search online for the company name and website to know how it operates. If the company does not list its complete address, there's a good chance that they use an online means of communication. But if the company lists an address, then send a printed resume.
Know the scale of the business.
If the employer you're eyeing is an international company, it's safe to say that they expect to receive a high volume of resumes. Likewise, recruiters will use ATS. So your better choice is to send an e-resume.
How to Write an Electronic Resume
Use buzzwords.
Read the job ads for the list of needed skills, job duties, education, and certification. Note these words and use them in your e-resume. Again, ATS searches for keywords showing the skills and experience needed for the job.
Take note of the file format.
Outline your resume in text format to make sure the formatting is accepted by all platforms.
Use a simple layout.
Avoid fancy fonts, colors, graphics, tables, and columns. These will only clog up the ATS.
Proofread your draft.
Double-check your document for any grammar issues before and after converting the file.
Ask for professional advice.
Are you not confident enough to make your own e-resume? Contact a professional resume writer now to help you create an e-resume that passes the screening tests.
Always be ready; have a formatted resume and electronic resume available at hand. To quote the words of Spanish writer Miguel de Cervantes: "To be prepared is half the victory."