In today's job market, whether you are a job seeker trying to establish your foothold in the industry or someone with a thriving career in management, chances are that you face a tough competition. This is also true with C-level professionals, who need to ace their resume and cover letter to leave a lasting impression to hiring managers. Therefore, Resume Valley compiled practical tips for executives on the hunt for their next job. Are you one of them? Check out the important updates you need to have on your executive resume.
8 Updates You Need on Your Executive Resume
If you're looking for a sample resume for senior management position, take a look at the executive resume above. This article will focus on writing tips to help you take your resume to the next level. By following the updates you need to apply, you can feel more confident with your job search.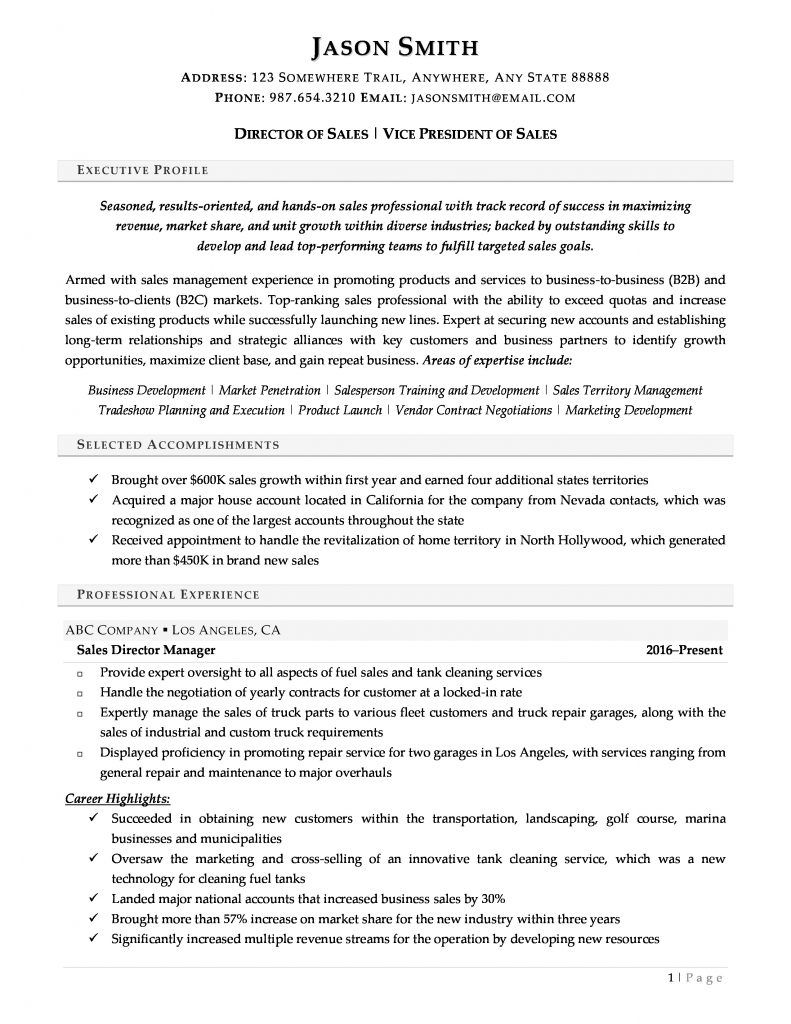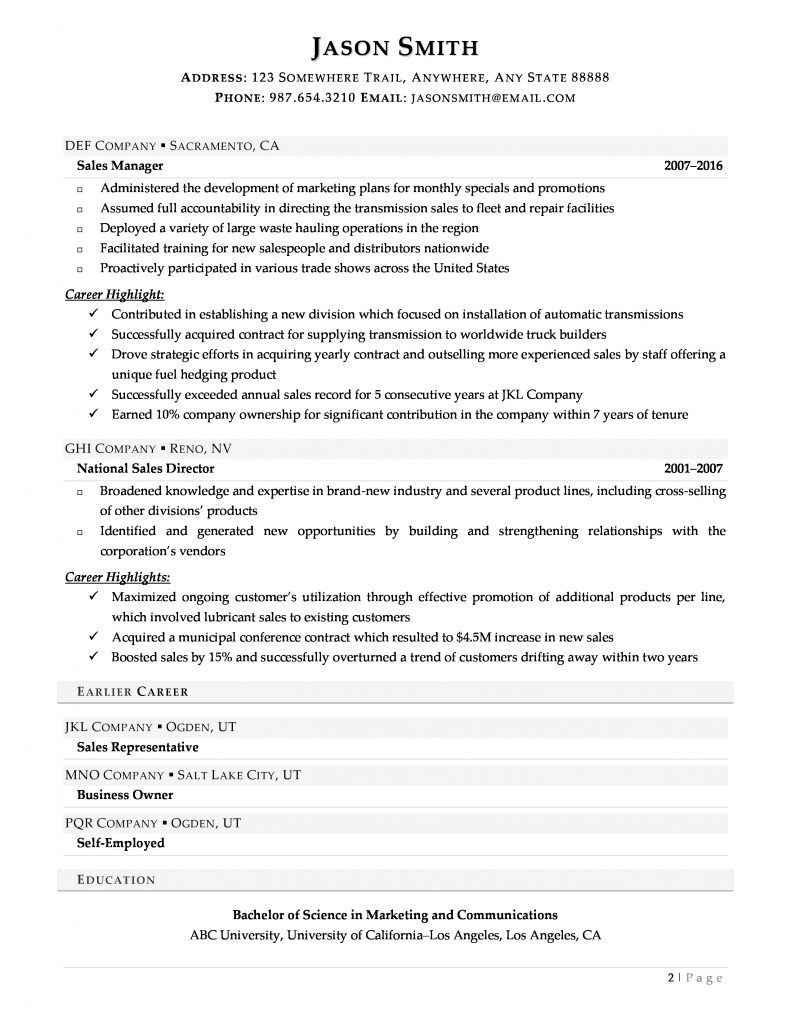 1. Write a gripping profile
Your resume needs to begin with an executive profile that details your credentials. Who are you, and can you offer the firm? Hence, you need to write an impressive introduction. This will then serve as your elevator pitch to recruiters, so take no prisoners. Be persuasive.
How to do it? Do you have credentials related to your target job? If yes, mention them here. If you wish, you may also choose to affix them with your name at the header part. As for the other details, be direct to the point. Mention your field of expertise, the number of years of experience you have, and how you can contribute to the bottom line.
2. List your core strengths
Even C-level positions undergo a recruiter's quick resume scan, so listing industry skills can help your executive resume get over that hump. Name this section 'Areas of Expertise', which will then serve as a keyword-rich list to allow applicant tracking systems (ATS) to screen it.
How to do it? A novel approach here is to list your core strengths within your profile, thereby combining the two sections into one comprehensive summary. Instead of your usual 'Key Strengths' section, let's proceed to the next tip below.
3. Prepare a section for your selected career highlights
After your executive profile, you need a section to wow your readers. Although as mentioned in tip #2 a section for your key strengths may do the trick, you can be more innovative here. As a senior-level professional, your track record should be full of notable highlights. Thus, why not state them right away? As you do, make sure they stand out. This section isn't required, but it's a great way to show hiring managers what you've already accomplished in your career.
How to do it? After your profile, you may elect to place a 'Selected Career Highlights' section in place of the usual 'Areas of Expertise'. Your executive resume must make it clear to your reader that your value offer includes tangible successes, and this section gives credence to your claim. However, take note to reserve this section only to your most important achievements. You don't have to put all of them here! Also, your entries here might be listed again on the experience section, where they really belong.
4. If possible, keep the resume within two pages
Resume writing standard has it that your copy should only be a single page, but it isn't always the case. Don't worry if this tip surprised you, because you're not alone. An executive-level resume serves as the summation of your career path, so it makes sense that your resume runs past one page. While sometimes a three-page senior position resume is accepted, it's best to limit the length to two pages.
How to do it? Make sure you place your most recent jobs on page one, making them the first things employers will read. Bump your older jobs to page two, while only highlighting the relevant experiences. If all of them are related to your target job, then list only important details. By setting a limit on page length, you can narrow down your resume's focus, and leaving out details that won't help your job search.
5. Focus on your most recent job experiences
Now that you know the suitable length your executive resume should maintain, it's time to put emphasis on your latest job tenures. Senior resumes should zone in on the current job position by including details that will help recruiters understand your role in the company.
How to do it? Although most resumes use a chronological format, it doesn't apply to all cases. First, assess the relevance of all your jobs to the one you're currently vying for. Are they all related? Do they show your career progression over the years? Knowing the right resume format to use is important in listing your most recent jobs.
6. Be specific with your achievements
No doubt that as a senior-level professional, you perform leadership and management functions, such as overseeing teams or handling the company budget. To use strong action words is one thing, and to specify your contributions is another. Don't forget that numbers speak volumes. In this case, your executive resume needs to contain highlights that can be quantified.
How to do it? Avoid vague statements when you can be more detailed instead. For example, were you in charge of a whole team? How many staff did you manage? Did you play a key role in the firm's boost in profit? If yes, by how many percent did it increase? It's not enough to state that the annual savings improved because of you. Remember to be detailed whenever you can.
7. Include only your past 15 years of experience
While resumes normally constrain their focus on the past 10 years of experience, senior resumes have a broader scope. In line with tips 4 to 6, concentrate on your past 15 years of experience. At this point, your work history is already full of experiences, companies, positions, and job duties. In order to fit them all given the resume length, restrict the details to those performed in the last 15 years.
How to do it? Depending on the resume format you'll use, you may include a section for older jobs. This section can be named 'Earlier Career', with details listed under it being job titles and company names only. Also, you may already omit the dates on the earlier jobs.
8. Create an online profile and share it on your executive resume
Some C-level resume samples discard this part, not knowing of its value. The latest resume trends state the importance of social media profiles, such as LinkedIn, in one's job search. Many employers take their job hunts online, and this means looking whether you have a strong social media presence.
How to do it? Make your own LinkedIn profile and keep it up to date. This will help you reach them. Lastly, don't forget to include the URL on your resume. This makes it easier for them to check your profile online and set up an interview.
Need Help with Your Executive Resume? Hire Resume Valley Now
Heeding those 8 key tips above should help you update your executive resume in no time. As you set your sights on that C-level position, you first need to master writing your senior-level resume to make sure you stand out from the pack. But if you need help, you can hire an executive resume writing service to do it for you.
Resume Valley offers premier resume writing services to guide you succeed in your job search. Do you wish our expert professional resume writers to help you? Contact us today and prepare to take on that executive position!