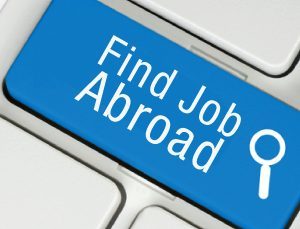 Today, many people are trying to find a job abroad. Working abroad can be a great opportunity to gain new worthwhile experiences and explore your target country.
Advantages of international work experience can be huge, but you need to follow the right steps and look for the best resume services for you to find the right job. So how can you make it happen? Here are some tips you need to take if you want to find a job abroad.
Tips on How to Find a Job Abroad
1. Be specific about what you are looking for.
Having a specific target is a great starting point. Why is this important? Being clear to yourself on what you want to achieve will be a big help for you to stay focused. You can easily be distracted and overwhelmed with countless opportunities that you will encounter. But if you are focused on what you're really looking for, then there is an increase in your chance of success.
Also, it is easier to communicate to others about what you are looking for. It will be easier for your network to help you once they know the specific kind of job you are looking for.
2. Use your networks.
Do not underestimate the power of social networking sites such as Facebook and LinkedIn. These social networks can help you to find introductions to professionals working in the area.
After you've found some professionals in your chosen field, you can now get in touch with them and present them your polished resume, references, and cover letter.
3. Make your job application stand out.
After you have decided what employer to pursue, you need now to present an impressive application. Think of the best resume services that you can use to make you look preferable to your desired position.
What skills have you acquired? What are your strengths? Try to give the reader a good overview of your skill set and don't forget to sort your list by relevance to the position offered.
4. Prepare for the interview.
Preparing for an interview involves practicing answers to potential questions. The types of interview questions you'll encounter vary by country. In the U.S., being asked questions about religion or marital status is illegal, but in countries such as France, such personal questions are acceptable.
Most countries will ask standard questions regarding your skills, past jobs, and experiences, but be prepared for some small differences within each country. Apparently, hiring the best resume services out there is of huge help. Also, do research about the country's interview etiquette and policies so you'll not caught off guard. A simple cultural miscommunication can hinder from getting your dream job abroad.
5. Be ready for expat life.
When your job application abroad has been approved, be sure to prepare and condition yourself for living in another country. While being focused on applying, interviewing, and arranging flights, you may forget that you'll be living in a new environment and nation.
As a newcomer, you'll need to research about the country's culture and begin learning their language. To make your social transition easier, you may talk to your family and friends about how you will stay in touch.
Once you've arrived at your new place of residence, it might take you some time to find new friends. Why not try to look some local expat communities to get your social life started?
Trying to find a job abroad can be challenging. It requires a lot of courage to enter in a new and different professional environment. Gear up yourself with flexibility, patience, and a great sense of humor, and you will effortlessly survive your new workplace.
No resume yet? Check out our services page to see which of our offers suit your needs.