Those looking for senior business analyst jobs know the importance of a strong senior business analyst job description on their resume. Are you one of them? Don't worry. This article will help you with your job search. We prepared the lists below to serve as your guide on what to include on your resume, and to make sure you are qualified for the job.
Senior Business Analyst Jobs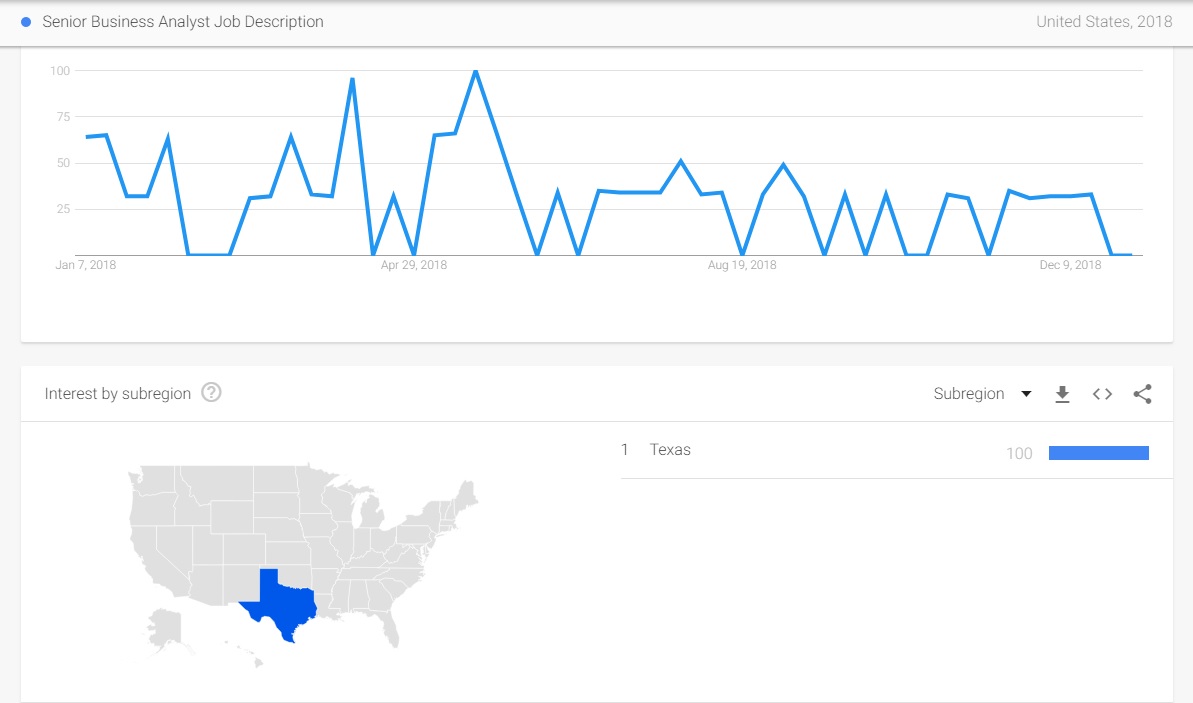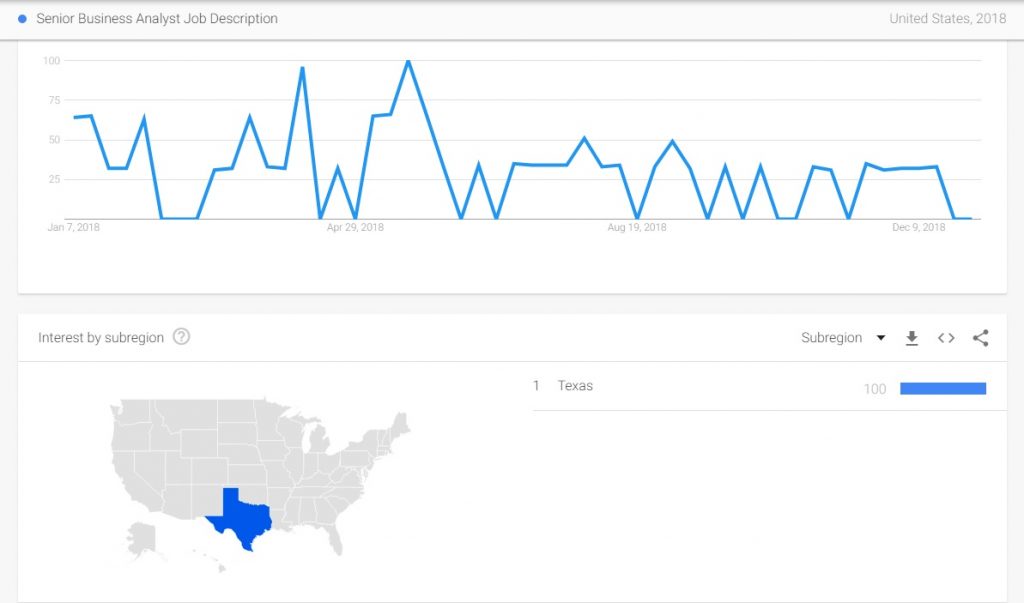 Google Trends showed a large number of searches for senior business analyst jobs in 2018, mainly in the state of Texas. This means that if your resume contains in-depth job duties, you have a good chance of getting hired. To achieve this, use the sample senior business analyst job description to know what to include and highlight on your resume.
Senior Business Analyst Job Description for Your Job Search
What details does a senior business analyst resume need to have? Use the senior business analyst job description to ensure your resume supports your goals. Check the sample below.
Senior Business Analyst Job Description
Work closely with business units to assess client's process and service, and address business risks
Direct team members to support client and business needs
Lead projects and ensure all parties are up to date with project status
Assist other project managers on more complex projects
Preside over meetings to discuss updates and findings on the latest customer needs and strategies
Assess business process and system issues, and suggest ways to increase adoption
Apply strong skills in negotiating stakeholder needs
Take on various roles which include managing project documentation, project scope, and customer and supplier relationships
Ensure projects are delivered on time by meeting with project team members
Ensure that the systems provided meet the clients' business goals
Senior Business Analyst Skills to Put on Your Resume
Recruiters spend an average of only 6 seconds to screen a resume. This is why your job search needs all the help it can get. Do you know how you can make sure your resume passes that 6-second test?
Aside from the sample senior business analyst job description above, your resume needs to contain the skills required for the job. Take note that firms now use ATS to screen resumes. This means they prefer job seekers whose resumes have the right keywords. You can do this too by checking the top skills the job post needs and putting them on your resume.
Top Senior Business Analyst Skills and Qualities
Project Management
Data Analysis
Requirements Gathering
Leadership and Team Building
Client Relationship
Project Life Cycle
Client Negotiation
Business Operations
Create Your Senior Business Analyst Resume with Resume Valley Now
Now, you're ready to write the senior business analyst job description on your own. See to it that you include all the details that will make you stand out from the pack. But if needed, a better way of improving your resume is to seek help from the best resume writers. A professional resume writing service guides you on how to best present your credentials. Do you need a hand in writing your resume? Contact us now and work with our professional resume writers to get started!