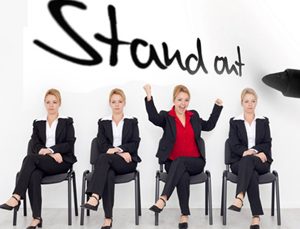 A trademark is anything that identifies, sets you apart, and promotes you to the interviewer. Trademarks on products are very distinct for a particular company. You can easily spot the counterfeit from the original. Your trademark on the other hand will show your interviewer the real deal about you. This is now the brand you are creating for yourself toward the realization of your career and stability of your future.
Your own brand is not necessarily aligned with the products and/or services of the company. Rather, it should be aligned with what you want for your personal and career growth. The brand is merely showcasing you: your talent, skills, competencies, work ethics, and values. This simply tells the interviewer that those are what you can offer to them. From this, they will have to assess whether what you possess is what they need for the position. Not only that, it will also help you follow your goal and dream. This lasting mark is also imprinted in your future.
Creating a brand or trademark is important. Start on your resume since this is the initial communication you have with a prospective company. You should be able to send out the correct information about yourself, otherwise your paper will be discarded. You are to connect with the reviewer; therefore, you should capture his attention. Any information you indicated should be the real you. Remember that the competition for any position available is tough and your resume should stand out. This will help them distinguish you from the rest of the crowd. In any job, it is important that you communicate well. However, in times when you are not able to relate well, your trademark will help you.
From there, they will call you for an interview to know you better. This will be your avenue to further sell yourself, which would consequently make them decide to hire you. You should be able to explain yourself to them. Know the following about yourself and express it through your skills, abilities, talents, competencies, experiences, work attitude and ethics, and your values. Explain and express who you are. Just make sure that everything you have written on it is true.
Many interviews became tough because the applicant doesn't know what he likes, the goal he set is not fixed, and there is no assurance about his purpose. Being clueless about all these will give you less chance to be hired.
The effects of a trademark help you land on your dream job. It gives the interviewer a mark of your difference from the rest. You are able to leave a lasting impression on their mind. Instantly, it displays the assets you possess, and they are able to recognize your capabilities for the position. If you are privileged to get the job, this is where your trademark will be tested. Your signature, mark, or style in doing your job effectively will make you successful. Creating a trademark is the first step for you to accomplish all and realize your career goals. It sets you apart from the rest.