Business analysts know when to and not to take risks. Definitely, they know it's tricky not to prepare for your job hunt. So, as an aspiring business analyst, you must know your target job's requirements, key skills, and duties. Reviewing these, especially the business analyst job description, helps you know how it's like working as one; more so if you qualify as one.
Thus, to ensure that your resume meets your goals, use our job description sample. This will inform you of what you should write in your business analyst resume.
But before anything else…
Reviewing Job Description Examples: What's in It for You?
NNow, you might ask: What do I get if I check and review job description samples? Great question.
One, it's good to check these samples of job description for you to get the gist of the job tasks. They may differ from one firm to another, but they have a lot of similarities when it comes to its nature.
Two, you can get some key points from job description samples and use them as powerful business analyst resume keywords. Through this, you're writing your resume that's fit for the applicant tracking system (ATS) most companies use to screen resumes. This helps you get your resume noticed, which heightens your chance of being called for an interview. That's great!
Three, it helps you assess your skills if you're fit to do the job tasks. By reviewing job description samples, you can set your goals and get ready for what the company expects of you should you land the job.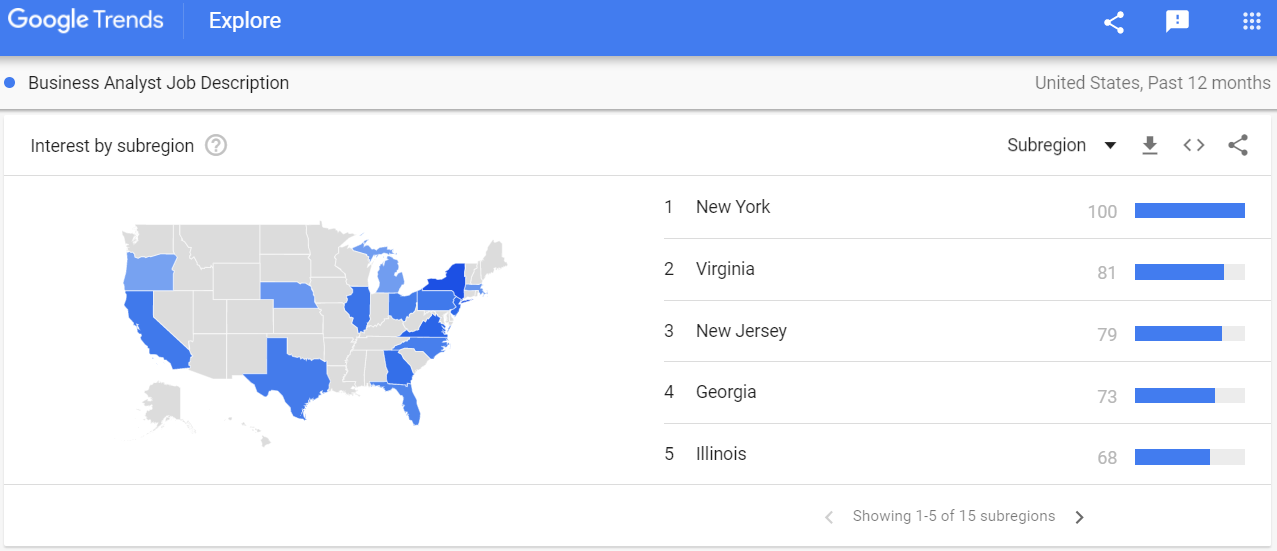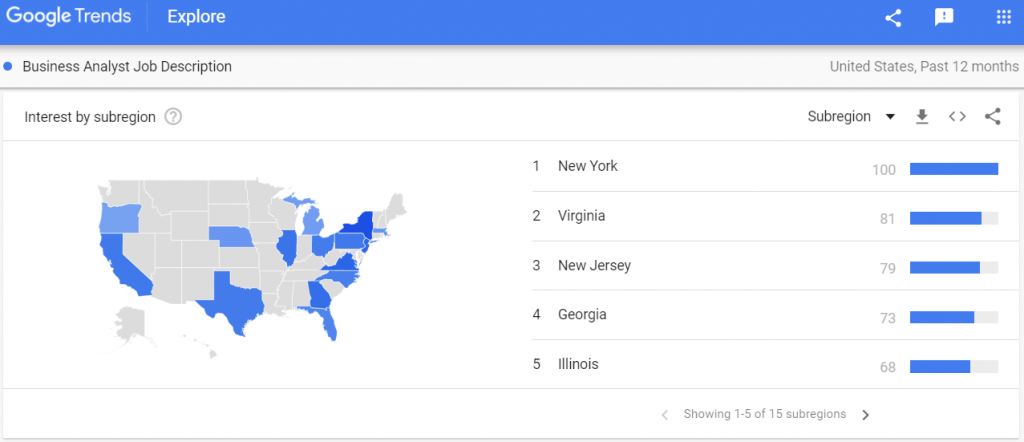 Also, Google Trends states that the search interest for the term "business analyst job description" is high in New York, Virginia, and New Jersey.
Now, it's up to you how to step up your job hunt game and be ahead among the rest.
Business Systems Analyst Role
First off, what is a business analyst?
Business analysts work on project teams. They act as the key liaison between the users and the project manager. Further, they gather data, record processes, and confirm the final documents with users.
As per ZipRecruiter.com, the annual business analyst salary is $82,051. This is almost twice the median wage for workers in the US which is at $47,060 per year.
Now, it's needless to say that business analysts play a vital role in maintaining the efficiency of technology all throughout the whole business process.
Business Analyst Job Requirements
For you to qualify for this job, take note of these job requirements:
Analytical and conceptual thinking skills
Ability to work closely with stakeholders to assess acceptable solutions
Advanced technical skills
Excellent planning and organizational skills
Time management skills
Has experience leading top performing teams and successful projects
Business Analyst Skills List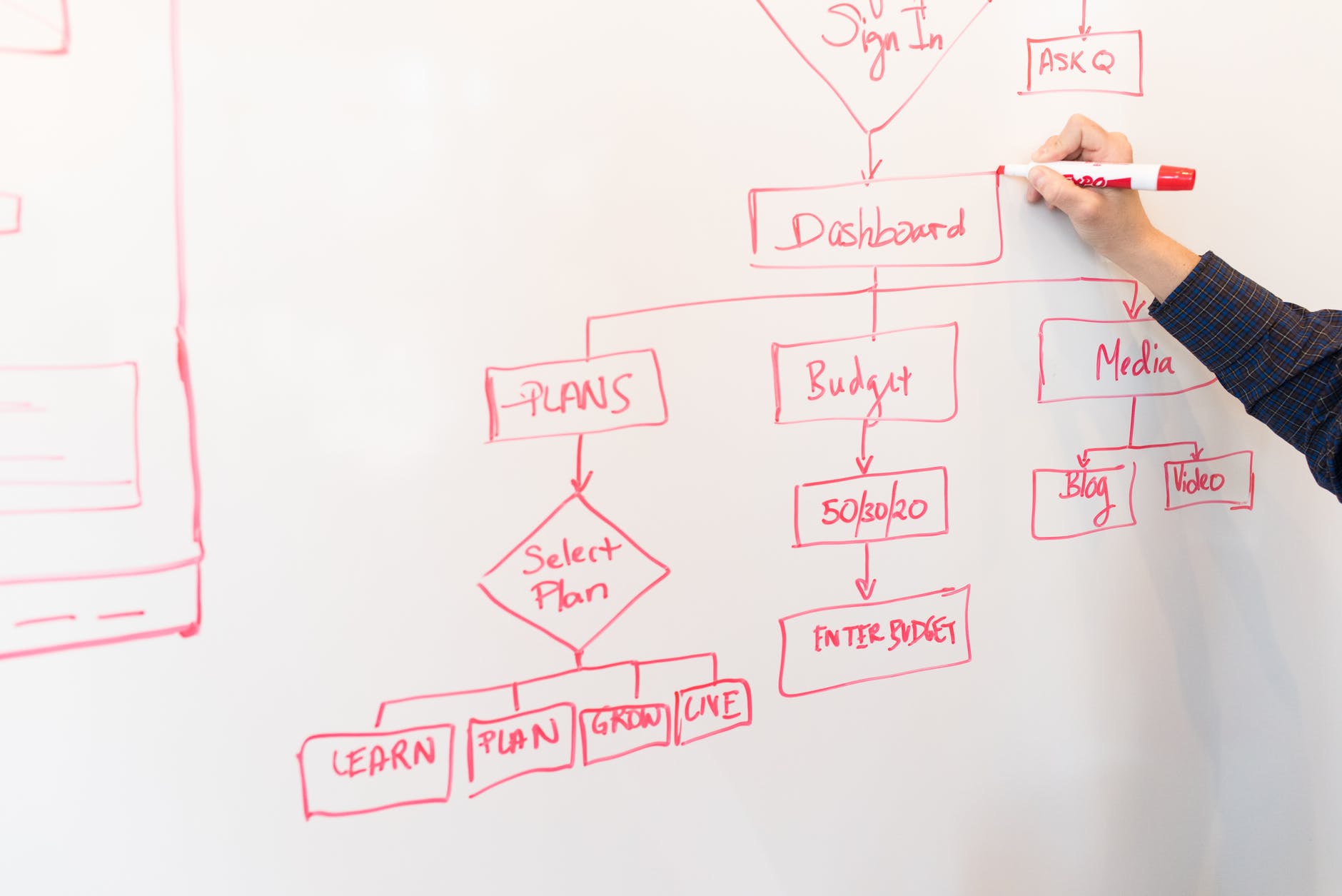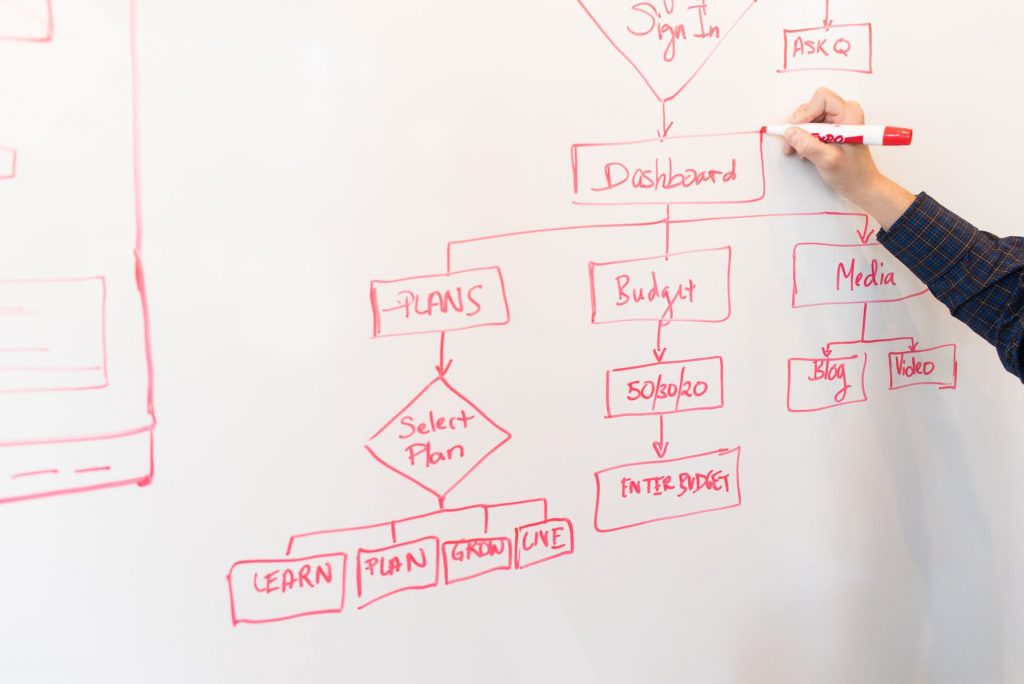 Aside from powerful keywords from the business analyst job description, your resume must also reflect the key skills of this job post. With that, here's a list of the top business analyst skills for resume:
Analysis
Teamwork
Process improvement
Great communication skills
Problem-solving skills
Critical thinking
Microsoft Office and SQL experience
Leadership and management skills
Knowledge in project management techniques and computing systems
Duties of a Business Analyst
So, what does a business analyst do? These are some of the job tasks you must be able to perform:
Assess the goals of the business and its structure as to how it uses technology
Work with executives to find out what they hope to achieve
Improve systems by studying current practices
Monitor project progress by tracking activities
Contribute to team effort by finishing related results as needed
Do daily, weekly, and monthly reviews and analyses of current processes
Write actionable reports to highlight vital business trends
Run workshops and training sessions
Create Your Job-Winning Resume with Resume Valley Now
Finally, don't let your resume fail your goal to land a job soon. Be sure to equip yourself with a strong resume to succeed in your job hunt. With that, maximize the business analyst job description in writing your resume. However, if you are not sure of your writing skills, seek help from the best resume writers.
Do you need help with your resume? Contact us today for inquiries or see and hire Resume Valley's professional resume writing services now!