Ensuring your job search tools are well-written and complete is a vital first step in your job hunt. In most cases, you need to write a resume cover letter to further highlight why you're fit for the job you're applying for.
Read on and learn the basics of cover letter writing to get you started.
What to Include in Your Resume Cover Letter
First, what is a resume cover letter?
It is a document sent with your resume to provide further information and highlight your skills and experiences relevant to your target job post. That said, make sure your document won't ruin your application due to poor writing skills. Heed these top guidelines on what you should put in your cover letter to make it look professional and in turn, help you land the job you aspire.
Header and contact information
You wouldn't want to send an unnamed resume cover letter in a pile of hundreds of job applications on a hiring manager's desk, right? In writing your cover letter, don't forget to put these:
Name
Phone number
Email address
Date
Name of the hiring manager and their job title
Name and address of the company you're applying to
In some cases, you may also choose to put these:
Your professional title
Your home address
Links to your professional websites and/or social media accounts
Your city of residence for a more professional touch
Salutation
Open your letter with respect through greeting the hiring manager by name. Instead of writing To whom it may concern or Dear Hiring Manager, research for the name of the person-in-charge and properly address them.
Further, check these top tips on writing cover letter salutations.
Introduction
They say first impression matters. Hence, use this to your advantage and create an impact that will surely capture their attention. In the first paragraph of your letter, state the position you're applying for and how you learned about the job opening. Give a glimpse of how your skills and experiences match the position and/or the company to convince them to read through the rest of your letter. Avoid writing too much fluff words and get straight to the point. Remember: You're getting the reader's attention, so keep your introduction engaging and convincing enough without overdoing it.
Body
This part serves as your ultimate pitch of why and how you're the best candidate for the position. Mention and explain how you meet the specific job qualifications in the job posting. Since your resume cover letter serves as key support for your resume, state your examples from your past work experiences that prove your abilities.
Closing
Briefly restate how your skills and work history make you the best candidate for the job post. After that, end your letter firmly by telling the hiring manager to invite you for a job interview and how they can easily reach you.
Signature
As you end your letter, use a complimentary close with your signature and your full name. To keep your resume cover letter professional, choose the most appropriate closer:
Best
Regards
Thank you
Respectfully
With gratitude
Yours respectfully
With sincere thanks
Cover Letter Tips to Get You Started
Writing a cover letter may be tricky, especially if you don't have the proper skills and knowledge to do it. With that, here are the top tips on how you must write a cover letter to help you succeed in your job hunt.
Start smart. This section lets you create a lasting first impression on the hiring manager, so don't waste this chance. Get straight to the point without being overly eager that you'll lose sincerity in your letter.
Mention your value offers. As much as possible, mention those not stated on your resume or those that specify your achievements or your core competencies. This helps recruiters see if you're worth inviting for a job interview.
Polish cover letter formatting. Don't overlook your cover letter format, as this affects how your overall application will look like. Keep it professional and neat through using only one to two font styles and avoiding unnecessary flowery words, while showing sincerity and assertiveness.
Proofread and edit. Look out for grammar and spelling errors before sending out your letter. Make sure to double-check all information on your resume cover letter. You may also ask a peer or a colleague to read it for you first to spot errors and provide feedback.
End strong. Include a call-to-action statement in your conclusion. Ask them to further discuss your application and how eager you are for their response.
3 Types of Cover Letters to Choose From
Ensuring a targeted job search document aligned with your job goals helps you increase your hiring chances in no time. Hence, in writing cover letters, you must know its different uses and make sure to choose and write the best type according to your purpose. Further, checking cover letter samples helps you see what each type should look like. With that, review the following cover letter examples to guide you as you write yours.
1. Application letter.
This most common type of cover letter style is used when you're responding to a known job opening. Now, let's look at this resume cover letter example: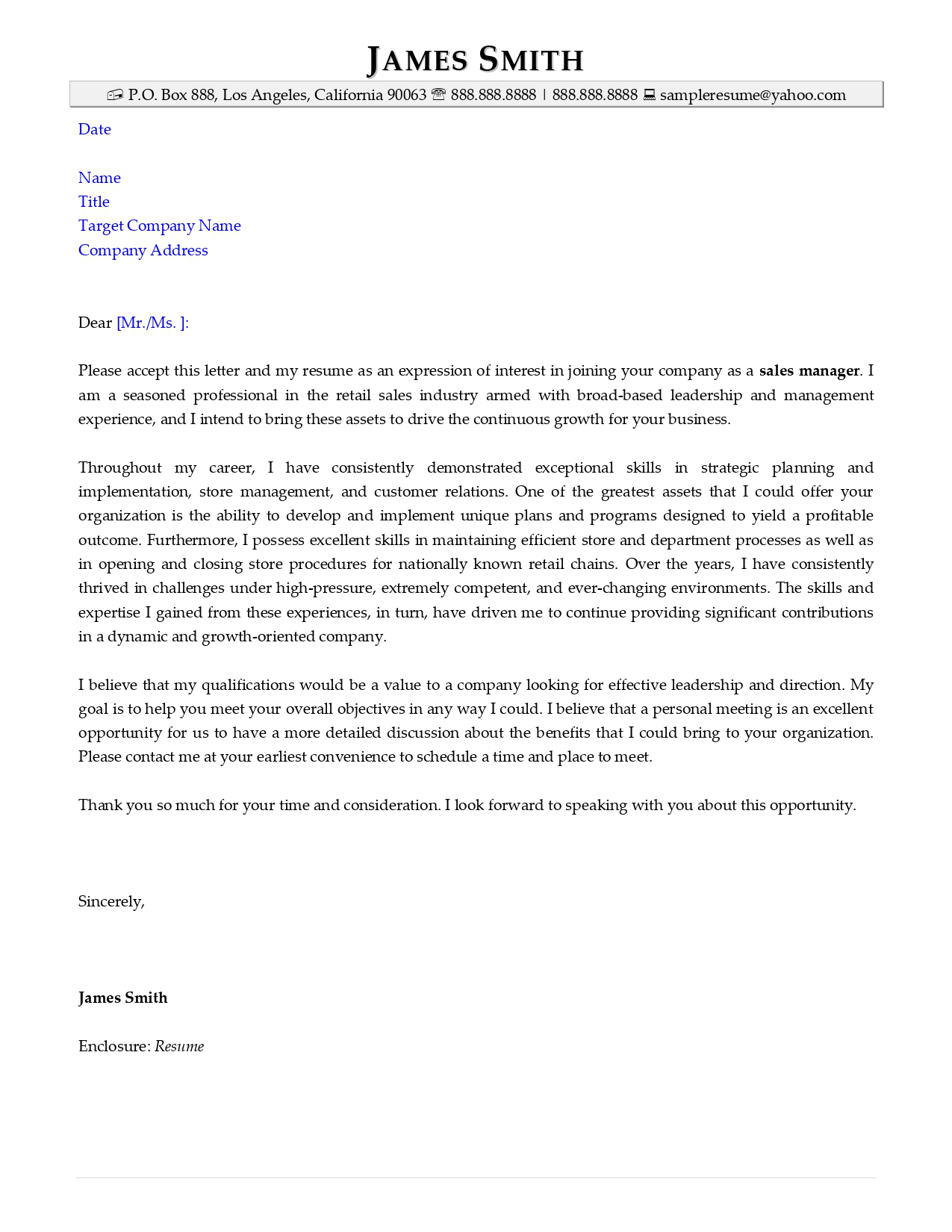 Application resume cover letter sample
James, in his introduction, went straight to the point of his letter which is to apply for a position as a sales manager to his target company. Likewise, he stated his value offers and how he can contribute to the growth of the business.
In the body of the letter, he detailed his specific skills and experiences relevant to his target position. Both his technical and soft skills were mentioned, necessary to further prove his competence for the job post.
Lastly, he reinforced his qualifications making him a great addition to the company and included a CTA for the hiring manager to invite him for a possible job interview.
2. Prospecting letter.
On the other hand, this type of cover letter lets you inquire about possible job openings. Refer to the example below: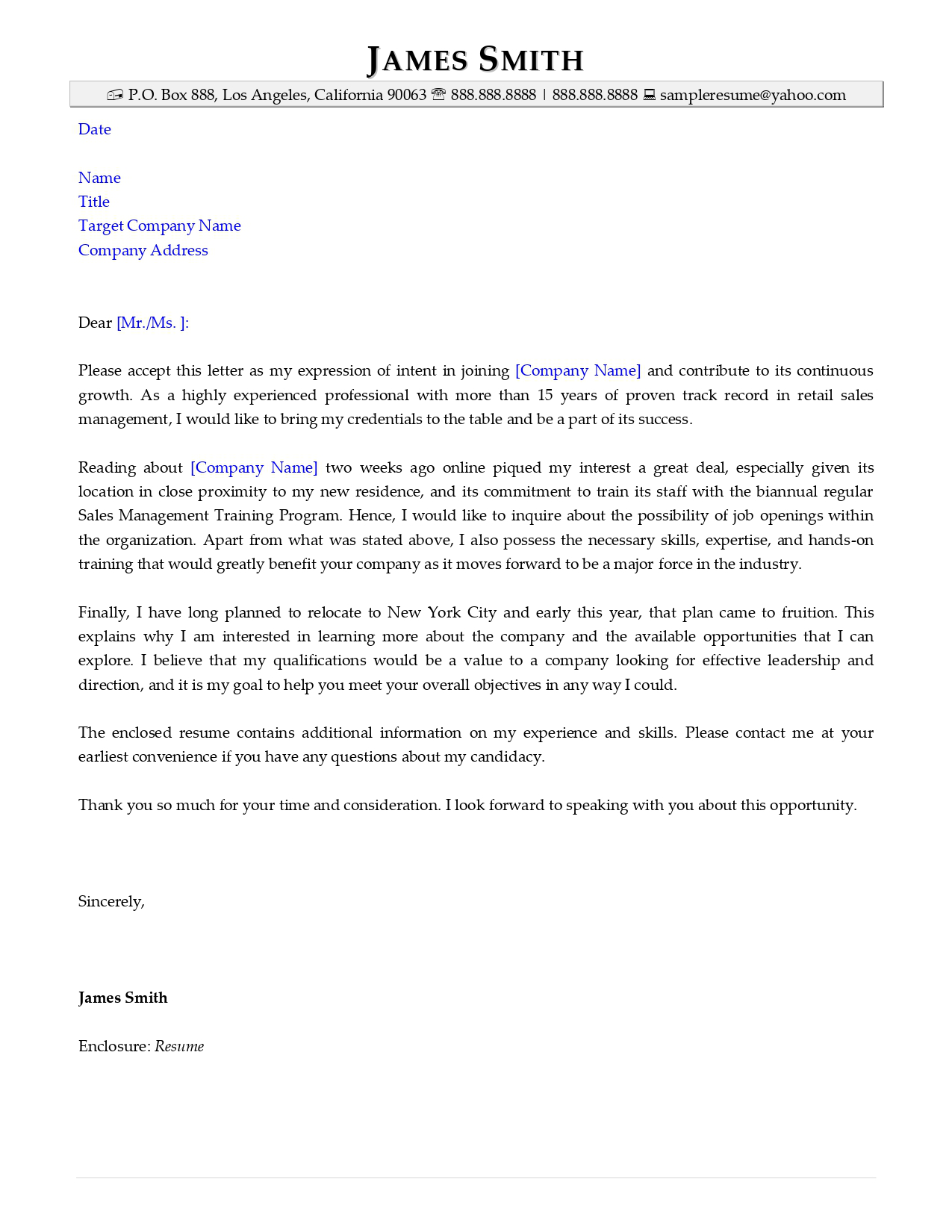 Prospecting resume cover letter example
James opens his letter by expressing his interest to work for the company by stating his field of expertise (in retail sales management); aiming to land a role in the business.
In the 2nd and 3rd paragraphs, James talked about how he learned about the company and his interest to apply in possible job openings.
In the last paragraphs, James cites his enclosed resume which contains further details on his skills and experiences; asking the hiring manager to contact him about his application.
3. Networking letter.
Lastly, this cover letter type helps you request information and assistance in your job search. Review this sample: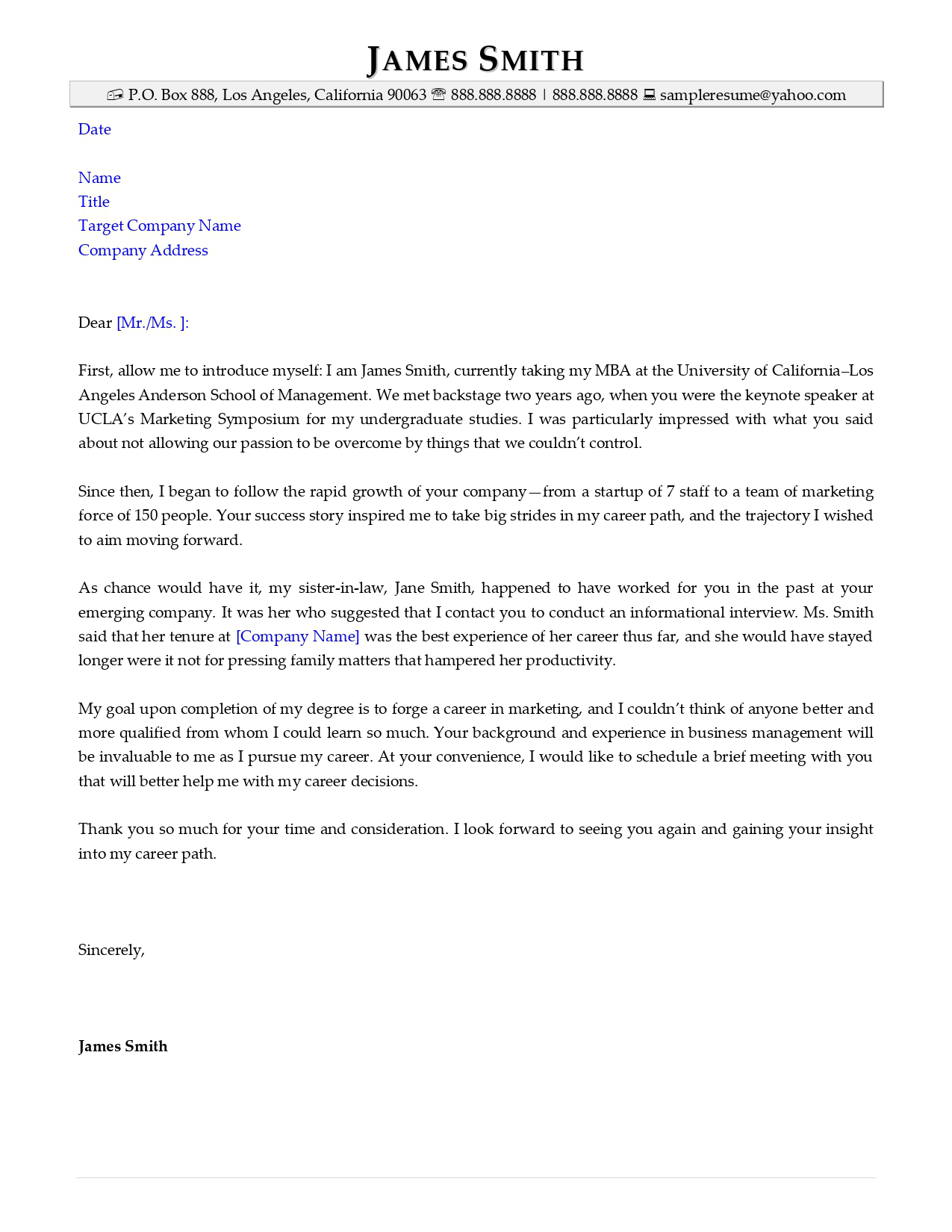 Networking letter sample
For this type, James introduces himself and his past encounter with the recipient of the letter. He detailed how he learned more about the company, and how he wishes to be part of it. Instead of inquiring for possible job openings or applying to specific job roles, he clearly stated the goal of his letter—to talk with the letter recipient about his career decisions in the marketing field.
Pro tip: Be careful not to use a generic cover letter template. Aside from this can be a turnoff to hiring managers, you won't be able to showcase your skills and experiences and end up not convincing recruiters that you're their perfect candidate for the job post. That said, it's best for you to make your resume cover letter more targeted, sincere, well-written, and professional.
Cover Letter Writing with Resume Valley
As a passionate job seeker, you must put effort and time into writing effective cover letters. After all, the aim of your letter is to help you secure a smooth job search and snag your target job.
So, if you need help with your cover letter, leave it to the experts! Resume Valley offers top resume and cover letter writing services for job seekers of various job levels! Choose among our best resume services and avail of our cover letter add-on for that extra boost in your job search. Take that step to reaching your career goals in no time!
Source: The Balance Careers