Are you planning to embark on a career in research and development (R&D) or science? Are you interested in working in an executive position in the medical field, nonprofit organizations, or academia? Or you might be looking for jobs overseas. If you answered yes to any of the questions, then here's something you need to know: Instead of a resume, a curriculum vitae (CV) might be what you need.
Like a resume, a CV includes qualifications, work experience, achievement, and progress throughout your working career. Therefore, it is important to write your CV in a way that will not only impress the hiring managers but also pass and comply with applicant tracking systems (ATS) requirements. To help you get the most out of your job search, we've compiled a list of CV dos and don'ts you should heed to effectively boost your hiring chances.
What is a Curriculum Vitae or CV?
A curriculum vitae is an essential component of every job seeker's portfolio, the same way a resume is. But the question is, what exactly is a CV? Latin for "course of life," CV contains detailed information and specifics about your professional experience and credentials. It lists everything that qualifies you as an expert in your area, from educational degrees to professional training, industry-specific certifications, and extensive field experience.
Depending on the level of your experience, your CV may also include additional sections for your grants, fellowships, speaking engagements, and other publications such as patents and research articles. CVs also include basic information such as name, address, phone number, and email address, along with other social media accounts, including LinkedIn. Many countries often include very detailed information about the candidate, sometimes even including date of birth, marital status, and professional headshot.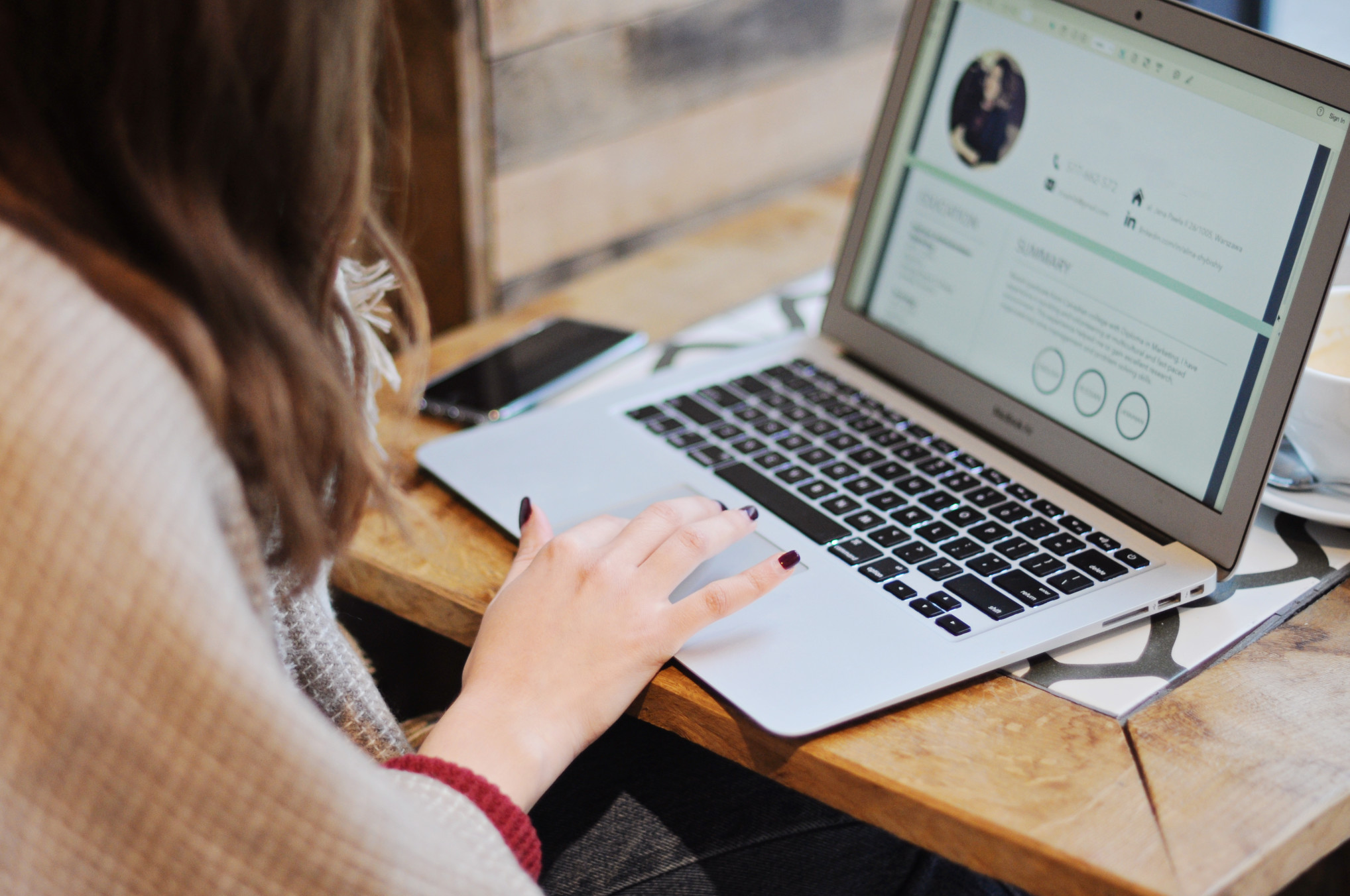 Writing a CV vs Resume
A CV and a resume are both regarded as gold tickets to capturing hiring managers' attention, since they emphasize your skills, display your talents, and indicate that you are qualified for the job position you are seeking. But which is actually better to use to land a job?
When deciding whether you need a CV or a resume, you must understand first the distinctions between the two and when it is most suited to utilize. Below is a detailed breakdown of the differences between a CV and a resume:
Scope – CVs are a comprehensive overview of your entire professional career, while a resume is tailored to the specific job you are applying to.
Content – CVs list all of your academic credentials, accomplishments, and certifications. Resumes, on the other hand, concentrate on your abilities and achievements that are relevant to the job you're looking for.
Function – CVs are typically used in applying for graduate research positions or joining the staff of a university, hospital, or research agency. In contrast, resumes are the most commonly utilized in job applications backed up by a cover letter.
Regardless of the difference, both a resume and a CV are effective application tools.
CV Writing Format
A correct CV writing format is essential to create a clear, more professional, and easier-to-read application tool. Proper formatting will also make your CV readable by ATS, which would greatly increase your chances of securing an interview. To ensure your CV both appeals to hiring managers and passes the ATS requirements, you must know what to include and how to format your information correctly while covering the following elements:
Personal Details or Contact Information
Qualifications Profile/Summary Statement
Areas of Expertise (industry keywords)
Education
Employment History (Teaching, Research, and Work Experience)
Grants or Funding
Publications
Conference Presentations
Other Relevant Information (Community Outreach/Activities)
In section order, contact information should be at the top. And because a CV focuses more on educational qualifications, education should appear first before your experience. You don't want the hiring manager losing interest in you as a candidate before they get to page two, so make sure the most crucial information is on page one.
In terms of layout, this is not the place to show off your graphic design abilities. While including visual features on a resume might help you stand out, a CV should not include any fancy or flashy formatting in order to retain a formal and professional appearance.
Related Article: An In-Depth Guide on How to Write a Curriculum Vitae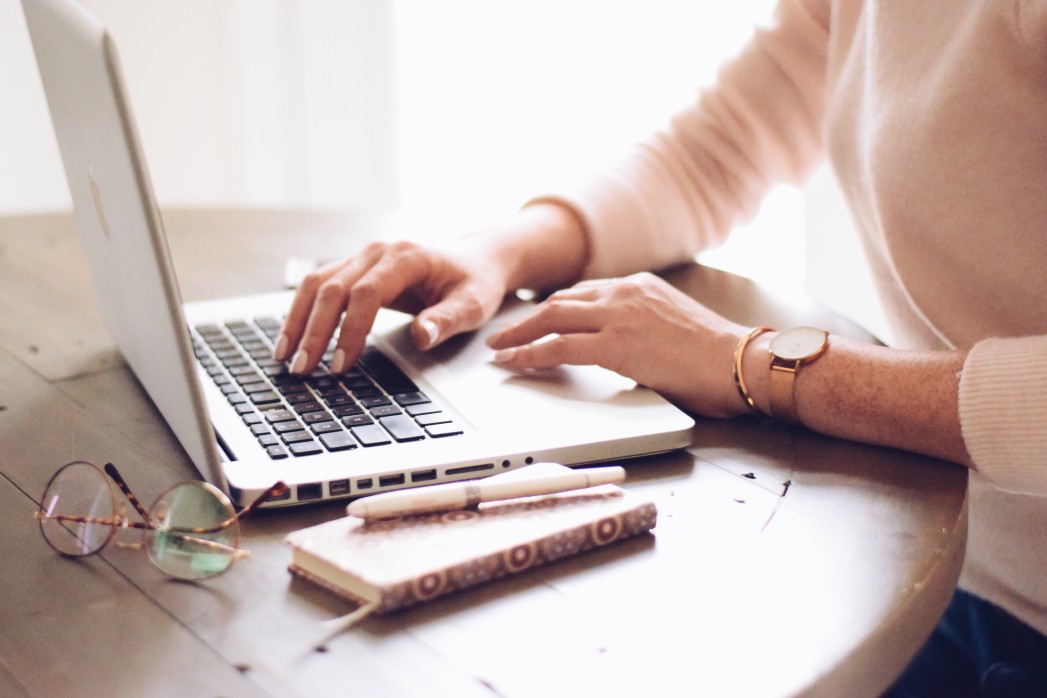 CV Dos and Don'ts: Keys to Landing a Job Interview 
In any job search, an ineffective job application document can make you look unfit for the role and thus ruin your chances of getting callbacks for job interviews. On the other hand, if written professionally, there's a high probability that you'll stand out from the pack and blow your competitors out of the water. Wondering how? Read on for the CV dos and don'ts detailed below.
CV Writing Dos
According to the February 2021 report published by Statista, the national unemployment level of the United States stood at approximately 9.97 million individuals. With this large contingent of unemployed, along with the rest of the applicants in the job search pool, how can a job seeker be so sure that their CV outshines the rest? Below is a video regarding the 'dos' that you can apply when writing your CV, which might help your preparation.
To sum it up, you must:
Write simple, honest, and smart descriptions and goals.
Focus on your strengths by using powerful words.
Tailor your CV to the role.
Prepare a summary of your achievement.
Make your CV visually pleasing and readable.
CV Writing Don'ts
Wondering why you haven't received any calls for job interviews after submitting your CV to employers? Perhaps among the CV dos and don'ts, your application tool has at least one of the latter. Hence, if you want to improve your job search, be sure to avoid the common mistakes in writing your CV that can snuff your chances of getting hired.
1. Use jargons, clichés, and recycled buzzwords.
Avoid using industry jargon just to impress the recruiters, unless coming straight from the job descriptions. Likewise, refrain from adding clichés and buzzwords that end up being fluff, contribute close to nothing to your value, and will just irk most employers.
2. Lie about your credentials.
You might want to reconsider your belief that adding certain things to your qualifications will make you the best candidate. The majority of businesses run background checks on the applicants they're interested in, and if they caught you lying on your application, it could lead to serious consequences.
3. Include salary info and expectations.
Salary negotiations should take place after the job interview when you've already established your value or the recruiter brings up the subject. Putting it on your resume might come off as imposing and may harm your chances of getting hired.
4. Explain gaps in work history.
Instead of stuffing your CV with explanations of your work history, make the most of the space by including pertinent information. Similar to "money matters," employment gaps should only be brought up in the interview if asked about them by hiring managers.
5. Mess up your CV with a dull format and layout.
Crazy colors, fancy font styles, childish email addresses, and wacky selfies are a big no-no in CV writing. If you want recruiters to take your application seriously, keep the layout and formatting uniform and professional.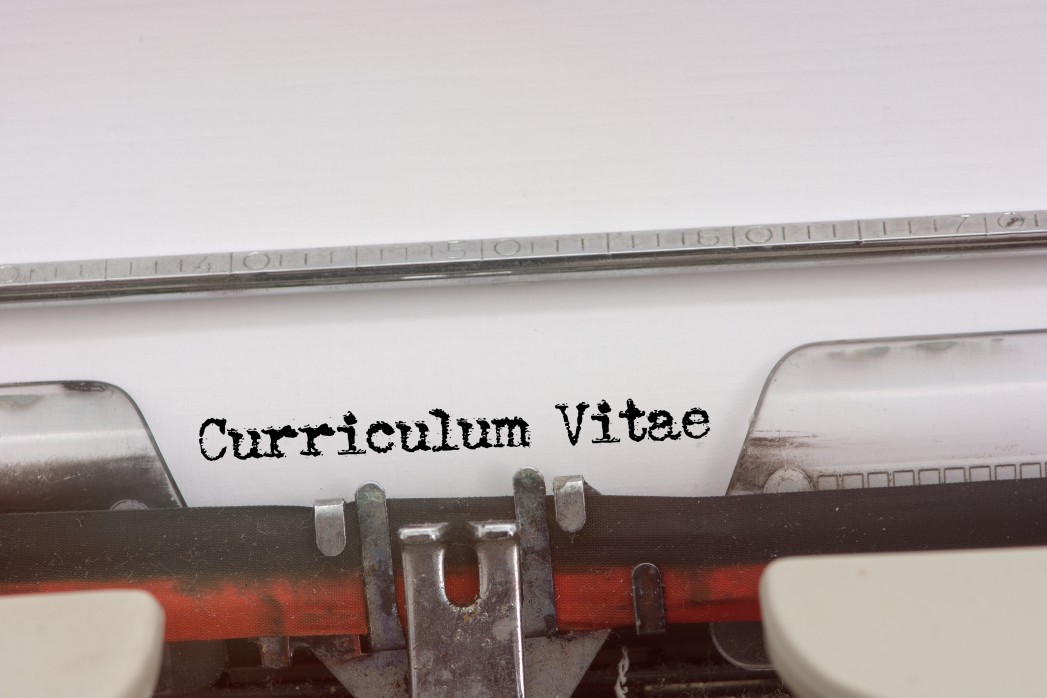 How Long Should a CV be?
In the United States, CVs can be as long as they need to be. Employers do not have strict requirements in terms of CV length. It can be comprehensive, especially for candidates seeking academic or research positions. But ideally, keeping your CV to two to three pages helps the hiring manager better digest your experience for the position you are applying for.
An experienced academic professional or researcher may have a CV that runs three or more pages long and which includes all of their work experience, accomplishments, publications, and other pertinent information. However, a CV for a job seeker with limited work experience and candidates currently in the early stages of a graduate school career shouldn't exceed three pages in length.
CV Writing Sample
Still in need to see all this put together to get a good idea of what a CV should really look like? Check out our sample below for a student who recently completed a PhD in a research-based field and is looking for a job in academia or a research field: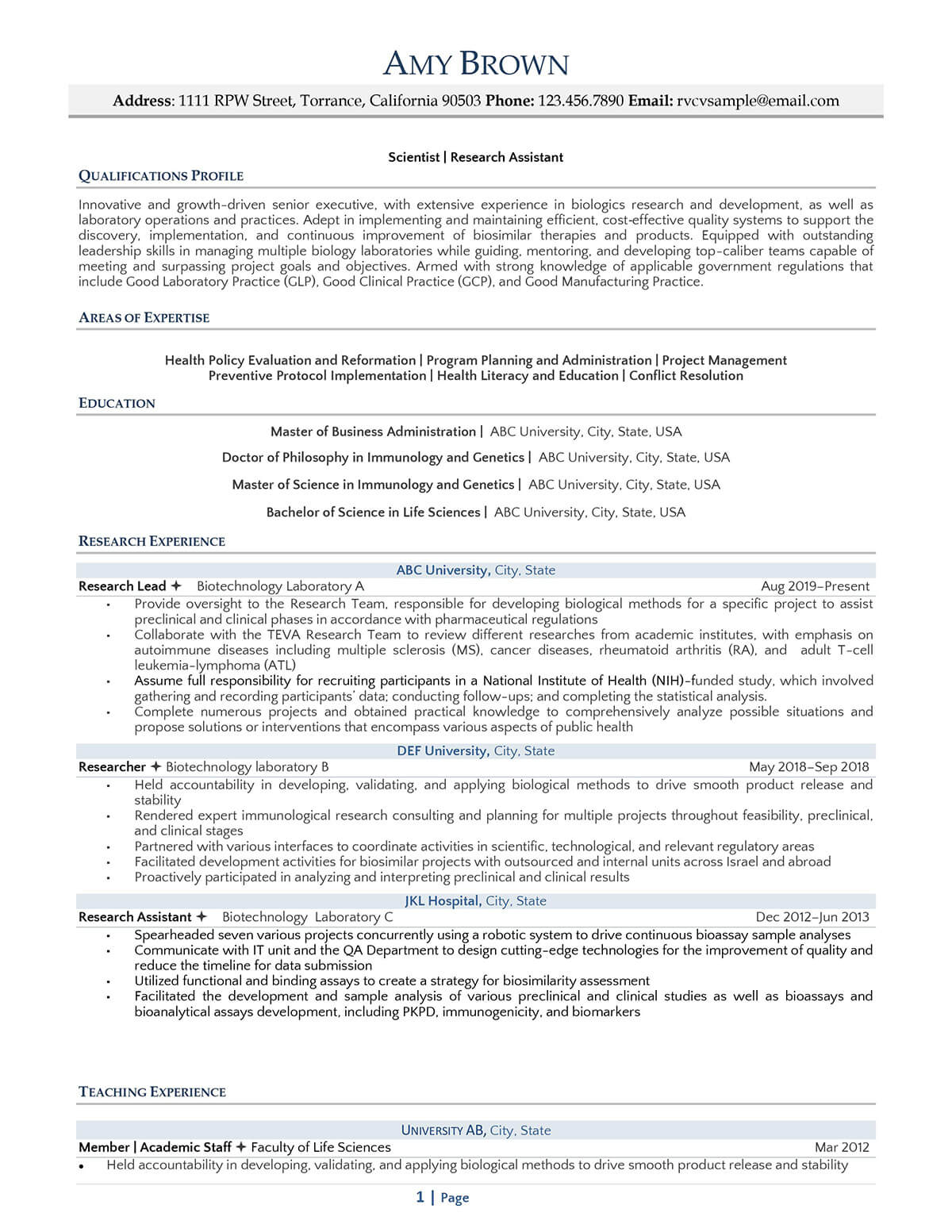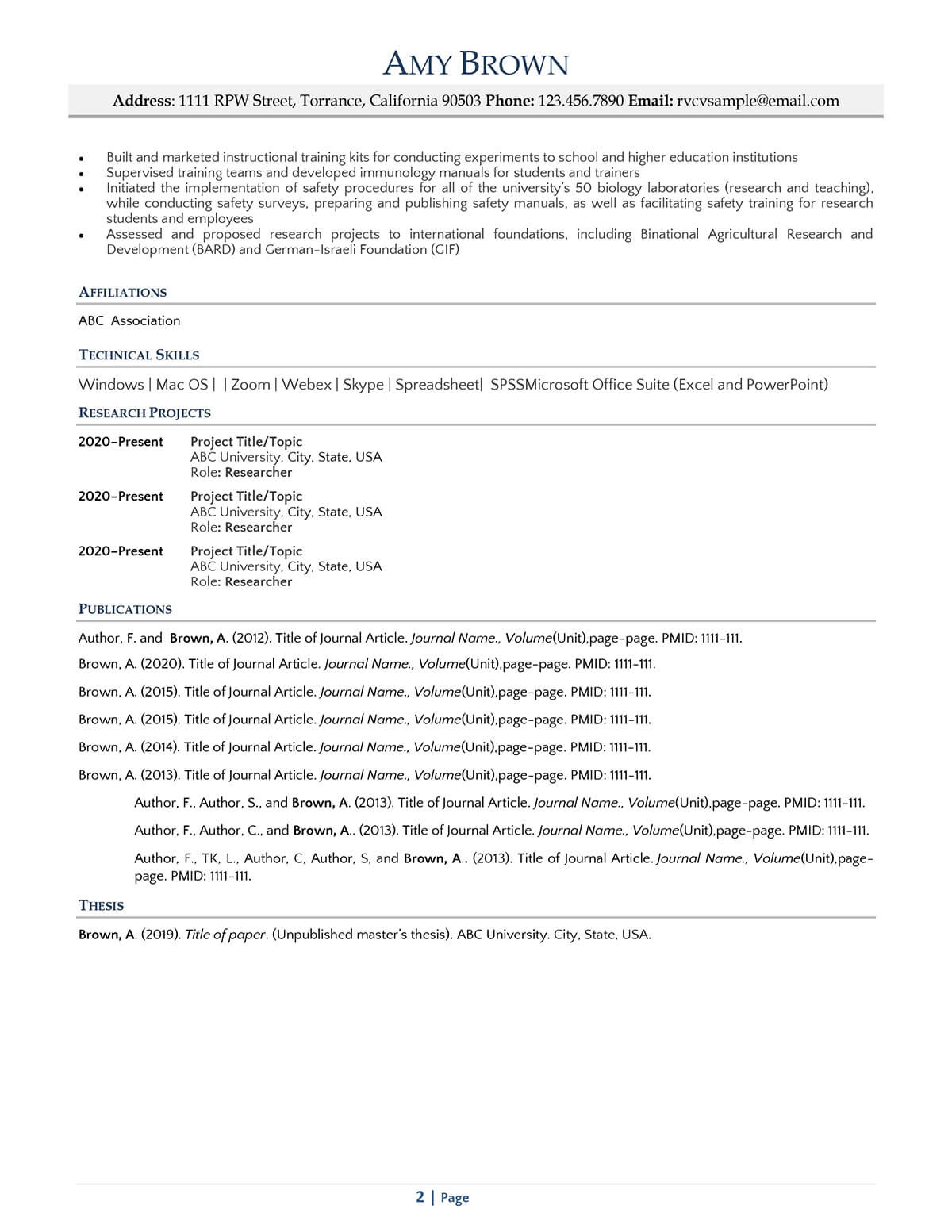 Heed These CV Dos and Don'ts—and Make Your CV Stand Out
Whereas CV writing can be difficult, this list of CV dos and don'ts can help you get started. So, if you're putting together your CV, make sure to follow these guidelines to avoid the most common pitfalls and red flags in CV writing. That should increase your chances of getting more interviews and landing the new job you've been looking for! 
Need some help? A professional resume writer can be of great assistance if you're still having a hard time writing your CV. We at Resume Valley are more than eager to help! Our team of career experts can provide you not only with the pro tips we've discussed above but also with CV samples and writing services that best suit your needs. Contact us today!